Your Next Car Will Be Driverless
OK, but the one after that will likely be self-driving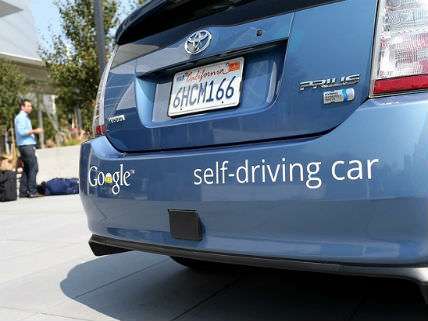 Driverless cars are coming sooner than most people think, according to an article in today's Washington Post. The Post also reports that Federal regulators are eager to help along the transition. Well, maybe. From the Post:
Cars that talk to one another and drive themselves may arrive on U.S. highways sooner than you think as the Obama administration launches an effort to expedite their progress. …

The first hands-free cars are projected to be available within months, and General Motors says it plans to roll out models next year. Initially the vehicles will be used in limited highway situations, rather than plying city streets. …

"We don't want to be part of the problem of integrating this technology into the marketplace," Transportation Secretary Anthony Foxx said Tuesday. "We want to be part of the solution." …

Foxx anticipated that the technology would be fully rolled out within 10 years and that it might be three decades before fully autonomous vehicles rule the roads.
Do the reports from earlier this week that Google's self-driving cars have been involved in a number of unreported accidents put a speed bump on the way to the driverless future? The Post reported:
"Safety is our highest priority," said Google in a statement. "Since the start of our program six years ago, we've driven nearly a million miles autonomously, on both freeways and city streets, and the self-driving car hasn't caused a single accident."
In order to encourage people to give up the steering wheel, it would really behoove the company to be more forthcoming about the circumstances of the accidents.
All right, maybe your next car won't be driverless, but the one after that will likely be. Actually, when most cars are driverless, I fully expect most people to give up automobile ownership and simply choose to rent cars for individual trips using an Uber-like app whenever they want one.
As I explained in my article, "The Moral Case for Self-Driving Cars," the cost of transportation for people who choose to rent driverless cars is estimated to fall by 75 percent. In addition, realistic simulations show that in cities, people would have an average wait of 18 seconds for a car to show up and that less than one half of one percent of travelers waited more than five minutes for a ride.
The US DOT wants to mandate vehicle-to-vehicle or V2V technology that would enable cars to talk with one another. Randall O'Toole over at the Cato Institute has some reasonable privacy concerns with regard to implementing this technology.
In any case, I really hope that the advent of driverless cars will mean that my 1996 Jaguar XJ6 (my wife refers to it as a "used Ford") is the last car I ever own.