Will Austin Proposal to 'Control' Barbecue Cause Beloved Food Scene to Go Up in Smoke?
Poorly thought-out rules against odors, emissions could devastate restaurants, food trucks.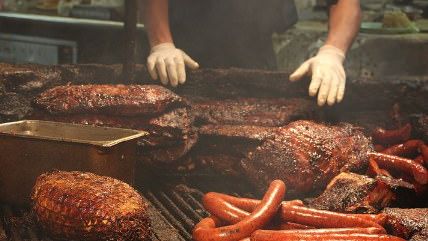 (CarlosPacheco / photo on flickr)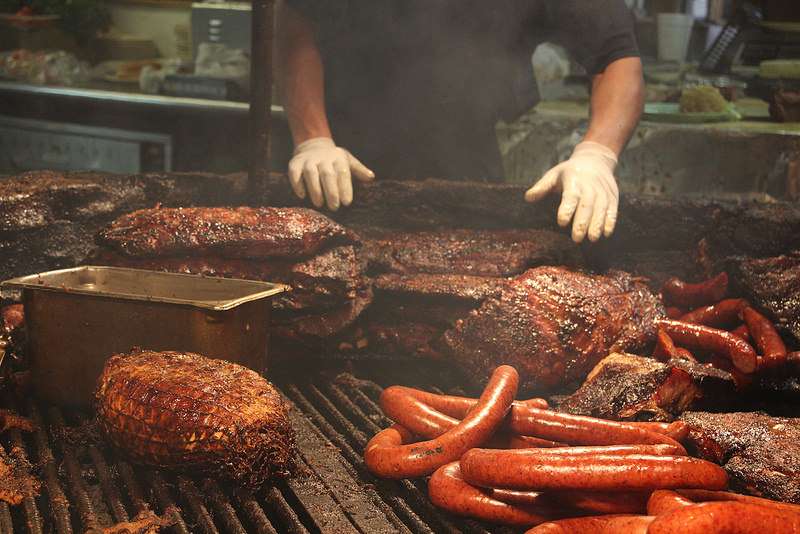 Earlier this month, the city council in Austin, Tex. took up "the smell of barbecue and a proposal to control it," reports the New York Times, "in response to some citizen complaints."
If that sounds ominous—and not just a reporter blowin' smoke—that's because it is.
Daniel Vaughn, who writes for Texas Monthly and serves as the country's only "barbecue editor," painted a bleak picture of the proposed rules in a piece he wrote in March, writing that the rules could force Austin barbecue joints to leave the city in droves.
Indeed, some of the city's best barbecue spots warn the proposal could bring about a doomsday scenario for Austin.
"If this resolution passes, we would be forced to close or move," owner Aaron Franklin of Franklin Barbecue, widely considered to be the Austin's best, told the food website Eater. "It would destroy Austin barbecue."
This matters. Austin is known for its barbecue. On my most recent trip to the city—this past fall to attend the fantastic Austin City Limits Music Festival—I sampled some of the city's best barbecue, at La Barbecue. And I drove down to Lockhart, about an hour outside of Austin, to eat at Kreuz Market, home to what many believe is the best barbecue in the world. (For what it's worth, I'd go a step further and say that I've never eaten a better piece of meat of any sort than the brisket I pawed into my maw at Kreuz's.)
One underreported fact of the Austin resolution—the Times story failed to mention it, for example—is that it targets not just the city's wildly popular barbecue restaurants but that other leading symbol of the greatness of Austin's food scene: the city's food trucks. In fact, the resolution's stated purpose is "to mitigate the effects of smoke emissions from restaurants and mobile food vendors near residentially zoned areas" (emphasis mine).
Austin isn't the first city to take issue with food smoke and odors. In 2013, Irwindale, California, officials came close to forcing that city's best known employer, Huy Fong Foods, maker of Sriracha Rooster Sauce, to skip town over complaints alleging the smell of hot peppers used to make Sriracha constituted a public nuisance. (Ironically, Texas lawmakers rolled out the red carpet to try to lure Huy Fong.) Eventually, Irwindale backed down.
Several years ago, a giant Washington, D.C., law firm sued a burger restaurant that shared a building with the firm. A judge forced the burger restaurant, Rogue States, to close thanks to wafting burger odors.
The Sriracha and Rogue States examples highlight the difference between public and private nuisance law.
"In general, a private nuisance refers to an activity that does not involve physical trespass, but nevertheless interferes with an individual's reasonable use or enjoyment of his or her property," reads a 2000 Penn State law school publication. "A public nuisance is an activity that threatens the public health, safety or welfare, or does damage to community resources."
In the former case, a resident claiming a violation would typically sue the alleged violator. In the latter case, a city might sue (as in the case of Huy Fong) or pass a law (as Austin may do).
Austin's "proposal to control" barbecue would wrongly turn what might be one or two cases of private nuisance issue into pervasive issue of public nuisance. There are alternatives to laws, including lawsuits—like the asinine one that forced Rogue States to close.
Even if I don't like the results of the Rogue States case, a lawsuit mostly impacts just two parties. A bad law impacts everyone, something Texas Monthly's Vaughn noted in his piece, calling barbecue smoke a "hyper-local issue [that] could potentially affect businesses citywide."
Even better than laws and lawsuits, though, might be a whiff of common sense and a pause to let the smoke clear. Prof. Ernesto Hernandez of Chapman University Law School—food law expert, native of San Antonio, University of Texas-Austin graduate, and self-described "traveler of the Texas Barbecue Belt"—agrees.
"If olfactory issues are really a concern, and not just NIMBYism, then the city should be more transparent and fair," Hernandez told me in an email this week. "With public hearings, it can listen to restaurants and residents. Restaurants want to be good neighbors and will often cooperate, but that is not always consistent with NIMBYism."
Aaron Franklin echoes Hernandez.
"Our smokers are on the second floor so the smell dissipates before it drifts down, and we make sure our fires have a complete combustion so you don't get that gross-smelling creosote," Franklin told the Times. "And we make sure kids in the neighborhood get food for their birthday parties—so the positive emotional associations with the smell of his barbecue get imprinted early."
Sounds smart. Who could have a beef with that?