The Slow Death of Free Speech in Britain (America, You're Next!)
From the Internet to the press to the public square, Brits' speech is being policed and punished
Freedom of speech no longer exists in Britain. The land that gave the world the Magna Carta, the Levellers, and John Stuart Mill—three of the key foundation stones of the modern conception of liberty—is now arresting and even jailing people simply for speaking their minds.
To see how bad things have got, consider three cases from the past week alone:
Twitter Crime
A man has been investigated by the police for a hashtag he used on Twitter. Seriously. Never mind speechcrime, or even tweetcrime—now we have hashtagcrime, the criminalisation even of those snarky, ironic asides people pepper the internet with. The man in question, Stephen Dodds, committed the sin of taking a photograph of two Muslims praying at Anfield, the home ground of Liverpool Football Club, and posting it on Twitter alongside the tweet: "Muslims praying at half-time at the match yesterday. #DISGRACE." That hashtag saw him become the victim of a furious Twitterstorm, the modern version of a tomato-wielding mob, and he was eventually reported to the cops. They investigated the matter for two weeks—two weeks!—before finally instructing Liverpool FC to take appropriate action against the evil hashtagger. Liverpool this week said it is deciding how to punish this man who dared to type the word "DISGRACE" on the internet.
Aggravated Meanness
2. A journalist, Katie Hopkins, has been reported to the police, and, bizarrely, to the International Criminal Court (ICC), for writing a column for the Sun in which she referred to the African migrants trying to get into Europe as "cockroaches." Hopkins is known for her outré views. She's been reported to the police before, for "hate crimes against fat people"! She said "fat people are just lazy," which is apparently a police matter now. The police didn't charge her over her fat-shaming, but they might well interrogate her over her migrant-bashing. Her cockroaches column caused the Twittersphere to go into meltdown; 285,000 people have signed a petition calling on the Sun to sack her (my preferred solution to Europe's migrant crisis is to swap these 285,000 intolerant Brits who fancy they have the right to shut down writers they don't like for 285,000 Africans who want to live in this country); and now the Society of Black Lawyers has reported Hopkins both to the UK cops and also to the ICC, demanding it investigate her comments "under the provisions of incitement to commit crimes against humanity." Am I allowed to call this a DISGRACE?
Shameful Bodies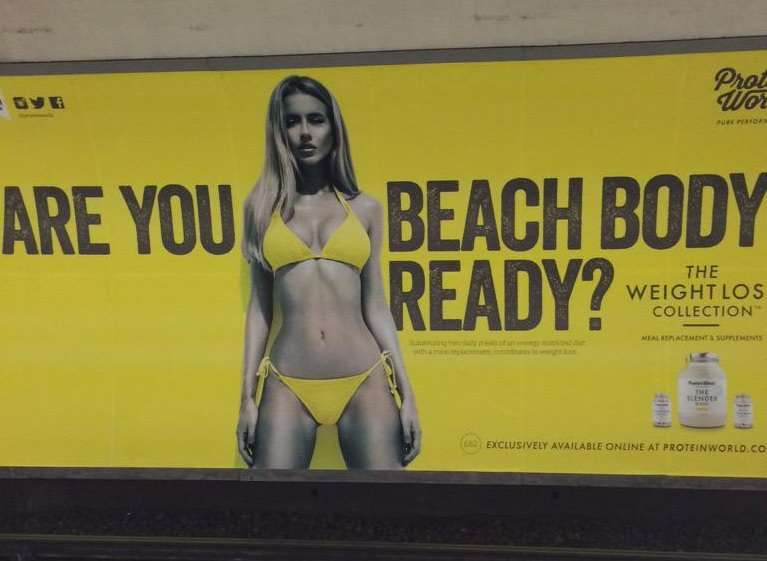 The Advertising Standards Authority (ASA) has launched an investigation into the appropriateness of an advert for protein supplements which features a sexy woman in a bikini next to the words: "Are you beach-body ready yet?" The ads, which appear on the London Underground, have been vandalized by SJW feminists who claim they "body shame" the plump. More than 30,000 people have signed an online petition—again with the petitions—demanding the ads be removed because they make women "feel physically inferior to… the bronzed model." And now the ASA, overlord of advertising in Britain, which has the power to expunge from the public sphere any ad it judges to be offensive, is heeding the feminist vandalizers and subjecting the ad to one of its stiff-lipped investigations. We wait with bated breath to see if this unelected institution will graciously allow the rest of us, the 64 million people of Britain, to keep seeing this actually quite pleasant ad.
These three cases of the past week encapsulate the crisis of free-speaking in 21st century Britain. They show that no zone of British life is free from the peering eyes and always primed red pen of the new censorious set that longs to scribble out or shut down anything dodgy, eccentric, hateful, or upsetting (to some.)
The cases confirm that everywhere from the new virtual terrain of the Internet (that hashtag guy), to the old-fashioned printed press (the Katie Hopkins case), to the public square itself (that bikini ad), speech is under threat from an unholy marriage of intolerant virtual mobs, censorious Social Justice Warriors (SJWs), and state institutions keen to censor stuff in order to protect the allegedly fragile public.
And these cases aren't one-offs. In relation to the Internet, numerous people have been arrested for tweetcrimes. In 2010, a man was found guilty of being "grossly offensive" after he joked on Twitter about blowing up an airport in Nottingham that was experiencing severe delays. He was fined £385 and lost his job. His conviction was finally quashed on the third appeal. In 2012, a student was imprisoned for 56 days for making racist comments on Twitter. Also in 2012, a 20-year-old man was sentenced to 240 hours' community service for writing on his Facebook page: "All [British] soldiers should die and go to hell."
Other tweeters have been arrested and interrogated by police for making off-colour comments. In December last year, a 19-year-old man was arrested for making a joke about the truck disaster in Glasgow, when an out-of-control truck hit Christmas shoppers and killed six. The tweeter said: "So a bin lorry has apparently driven into 100 people in Glasgow eh, probably the most trash it's picked up in one day." For that, for doing what people have been doing for generations—making up stinging jokes in the wake of a tragedy—he was arrested. He was let off, but the police sent a chilling warning to us all: anyone who makes horrible jokes on Twitter we will be visited and given "strong words of advice," they said.
Various laws enable this police invasion of the online world: the Public Order Act of 1986, which criminalizes "racially aggravated" speech; the Malicious Communications Act of 2003, which criminalizes "offensive, indecent or menacing" speech in electronic media: these are the statutes the cops have used to colonise the internet.
The war on Katie Hopkins isn't a one-off, either. It follows hot on the heels of the Leveson Inquiry's creation of a chilling, choking climate in relation to the British press.
Launched by David Cameron in 2011 ostensibly to investigate phone-hacking at the News of the World, but actually having the vastly expanded remit of looking into the whole "culture, practice, and ethics of the press," the Leveson Inquiry has created a situation where Britain might soon have a press regulator set up by Royal Charter—which would be the first system of state-backed regulation of the press in Britain since 1695.
Even before that Royal Charter has been signed, Leveson has already, predictably, emboldened the petty censors in our midst who have long desired to silence offensive columnists, especially tabloid ones. As one agitator against Katie Hopkins admitted. "Leveson was a smack in the teeth" of newspapers like the Sun, he said, which should now feel less able to publish Hopkins' and others' "vicious… right-wing opinioneering." In short: A state-decreed, judge-led inquiry is leading to the castration of the press, and we should be happy about that.
As to the ASA's investigation of the bikini ad—such topdown regulation of the words and images of the public sphere has become commonplace in recent years.
The ASA has banned ads for hair products that were offensive to Christians (they featured nuns in suspenders); ads for an airline that had a woman dressed as a schoolgirl, on the basis that they could cause "widespread offence" (in fact, only 13 people complained about them); and even an ad for a supermarket that showed a girl taking the salad out of her hamburger on the grounds that it "condoned poor nutritional habits." Censorship in the UK has become so psycho that even the presentation of hamburgers is now strictly policed.
Over the past decade, our virtual world, our media, and our public spaces have become subject to ever-greater policing by both SJWs demanding bans and officials all too willing to ban. The end result is a nation which poses as liberal and modern yet where everything from pics of a woman in a bikini to naughty jokes can be subjected to official sanction, and where everyone becomes less sure of what they're allowed to say and thus tends to shut themselves up to be on the safe side. Self-censorship: the worst kind.
To this end, we sometimes haven't even needed coppers or campaigners to force the closure of allegedly offensive words or art: institutions and individuals have silenced themselves in the face of hollers of complaint.
Last year, the Barbican Arts Centre closed down a piece of performance art exploring slavery and racism after 250 protesters turned up on the opening night. ITV ditched a TV show featuring sexist comic Dapper Laughs after journalists and SJWs tweeted and petitioned against it. And numerous theatres have pre-emptively cut or changed plays that mention Muslims out of fear that Islamists will kick up a fuss. Free speech in Britain is being killed by police, officials, agitating mobs, and by us—by a culture of fear which encourages people to opt for self-silence over the possibility of causing a stir.
Americans will, I hope, be aghast at all this. The one massive difference between you and us is that you have a constitutional guarantee of free speech that shackles the state, whereas we have a long history of brave battles for press freedom and free speech, yes, but no written-down surety that such liberties will be respected or protected. Which is why they can now be so casually trampled underfoot.
And yet, Britain and America do share something scary in common on the new-censorship front: we both have new armies of the intolerant, growing groups of so-called SJWs and other agitators for the silencing of foul or simply old-fashioned views.
This is especially the case on campus. On both sides of the Atlantic, universities have become hotbeds of the new intolerance. British student leaders have banned the pop song "Blurred Lines," the Sun newspaper, and numerous controversial speakers, while American campus agitators demand trigger warnings on edgy (and not even edgy) literature and the disinvitation of anyone who offends them, and they harry and scream at anyone who holds different views to theirs: most recently the non-victim feminist Christina Hoff Sommers.
America and Britain might be divided by a piece of paper guaranteeing free speech—you have one, we don't—but we're united by a shared new generation of aspiring speech-policers. And in Britain, it has often been the demands of these informal groups of heresy-hunters that have coaxed the state to take action against eccentric or outrageous speech. How long can the First Amendment hold out against America's budding new censors? How long before the U.S. joins the U.K. at the funeral of free speech?