CNN Won't Cut Away from White House Correspondents' Dinner, Reassures Viewers They'll 'Find Out All of What Happened in the Streets of Baltimore by This Time Tomorrow'
CNN contributor notes that people can go online for information instead.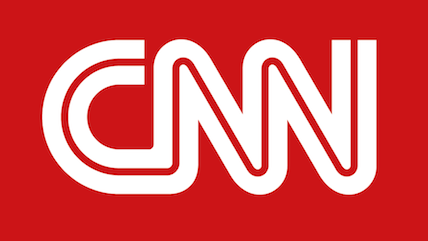 There was a gigantic peaceful march for Freddie Gray in Baltimore this afternoon. And then, in the evening, things got more violent, with some of the demonstrators throwing rocks and bottles at cops and smashing the windows of businesses and cars. (The authorities are currently blaming these incidents on "isolated pockets of people from out of town.") At least 12 people were arrested; and inside Camden Yards, where the Orioles were playing the Red Sox, the jumbotron delivered this message to the crowd: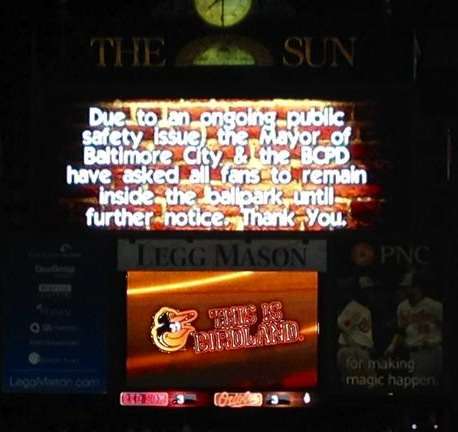 Seems like a pretty big story, no? And if you wanted to see TV reporters trying to piece together what exactly was going on, you could check out the live feeds at WBAL and WJZ.
But you needn't have bothered checking CNN. Here (via Richard Wojcicki) is Errol Louis acknowledging the events taking place less than an hour north of DC…and explaining why his network wasn't interrupting its White House Correspondents' Dinner coverage to show viewers what was happening:
"You can find a live feed if you actually want to watch what's going on," Louis says, then gives a very brief sketch of "what I'm seeing on Twitter." His conclusion: "You can find out what you want to find out. And, you know, something else is going on—the most powerful man in the world is gonna tell some jokes….
"We don't control a lot of this stuff. We sort of make our best choices, and we'll—we'll catch up. People will be informed….They'll find out all of what happened in the streets of Baltimore by this time tomorrow."
So apparently that's what they mean by "24-hour news channel."