"Fat Cat Bill de Blasio vs. New York's Poor and Middle Class"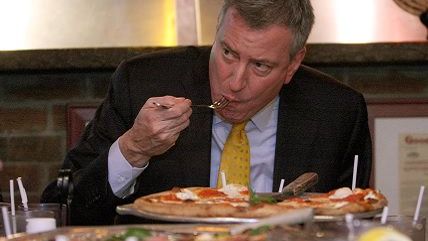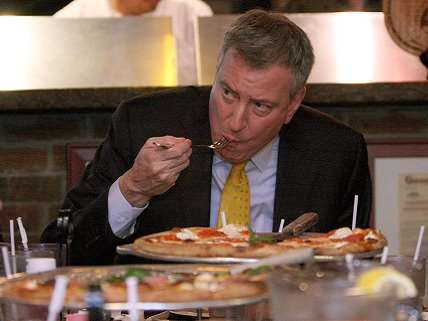 So it turns out that New York City's progressive-minded Democratic Mayor Bill de Blasio makes enough money to put him in the top-earning 10 percent of the Big Apple. Worse yet, he's a proud member of the rentier class, pimping out his family's house while living for free at Gracie Mansion.
In my new Daily Beast column, I write that while there's absolutely nothing wrong with de Blasio being wealthy,
it's important for at least two reasons. One is the simple joy of seeing progressive politicians who spend so much time vilifying the wealthy have to cop being part of the 10 percent or, in the case of characters such as Hillary Clinton and Elizabeth Warren, the dread 1 percent.

The other reason is more important, because it says a lot about de Blasio's poor grasp of how to grow a flourishing, inclusive economy that actually makes things easier for the poor and middle class about whom he's always flapping his gums.

De Blasio is what might be called the "working rich." That is, even though he's pulling in beacoup bucks—before becoming mayor, he made a healthy $165,000 as the city's "public advocate"— he doubtless feels pinched, even to the extent that he only could only spare a measly $7,215 for charity last year (this, despite the massive, year-over-year salary increase and the windfall of getting free public housing at Gracie Mansion).

Yet for de Blasio, New York City's massive and inefficient government apparatus is delivering for him and his, which helps to explain why his entire political agenda is about growing the size, scope, and spending of government rather than freeing businesses and individuals from it. What he doesn't grok is that his experience of how city government delivers services and opportunities is atypical and can't be remedied by top-down mandates that simply decree hikes in the minimum wage, increases in the number of "affordable" housing units, and boosts in salaries for teachers in traditional public schools.
Oh yeah, de Blasio may also be trying to sabotage Hillary Clinton's run for the White House, so he can emerge as a dark horse candidate. That fantasy is more credible, I argue, than his plans for making life easier for New Yorkers when it comes to school, jobs, and housing.