Survey: National Support for Legal Pot Has Risen by 29% Since 2010
Coloradans are keener on legalization than they were when they voted for it in 2012.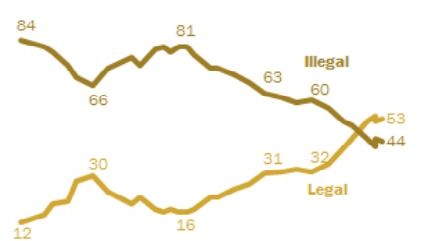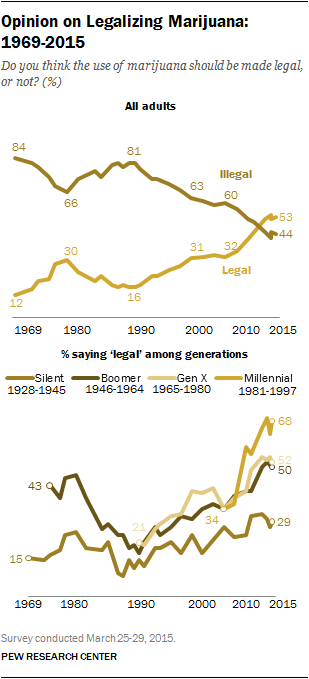 According to a Pew Research Center survey conducted last month, 53 percent of Americans think marijuana should be legal, about the same as last year and the year before (52 percent and 53 percent, respectively) but up substantially since 2010, when 41 percent supported legalization. As in earlier surveys, support for legalization was inversely correlated with age: It was strongest (68 percent) among millenials and weakest (29 percent) among respondents 70 or older, the only age group in which a majority continued to favor prohibition. Self-reported marijuana use also was related to age, with only 19 percent of the 70-and-older respondents saying they had tried it, compared to 59 percent of baby boomers, 47 percent of Generation X members, and 52 percent of millenials.
As usual, Democrats were more likely than Republicans to support legalization: 59 percent vs. 39 percent. But majorities in both parties (58 percent of Democrats and 54 percent of Republicans) said the federal government "should not enforce federal marijuana laws" in states that have legalized cannabis. That result reinforces the political viability of a federalist approach to this issue, which has been endorsed by several Republicans seeking their party's presidential nomination.
Although Pew's numbers go back only five years, other surveys show a longer-term increase in support for legalization. In the Gallup Poll, support rose from 12 percent in 1969 to 51 percent last year; in the General Social Survey, it rose from 19 percent in 1973 to 52 percent last year. As you might expect, Pew found that supporters of legalization are "far more likely than opponents to say they have changed their mind on this issue": 21 percent vs. 7 percent. The most common reason that supporters offered for their position was marijuana's medical benefits (mentioned by 41 percent), followed by its hazards compared to those of other drugs (36 percent) and tax revenue or other benefits of regulation (27 percent).
Meanwhile, a new Quinnipiac University poll finds that voters in Colorado, one of four states that have legalized marijuana for recreational use, are more likely to support legalization today than they were when they approved it in 2012. In the survey, conducted from March 29 through April 7, 62 percent of Colorado voters said recreational use should be legal, compared to 55 percent who favored Amendment 64, the state's legalization measure, three years ago.