Man Suing After Tennessee Cop Fractures His Skull
An internal investigation cleared the cop. He resigned and was eventually charged with felony assault by state investigators.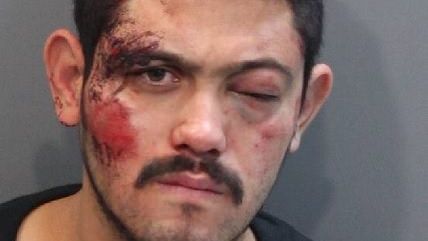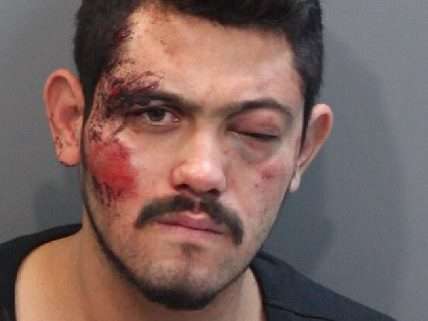 Yesterday a police officer in North Charleston, South Carolina was charged with murder. Video taken by an eyewitness showed the cop, Michael Slager, shooting Walter Scott in the back as he fled, contradicting Slager's account, which had Scott grabbing for his Taser. In the video, Slager 's attorney argues the cop believed he "followed all the proper procedures and policies." As Jacob Sullum noted last night, the existence of video in this incident and the murder charge that followed is an example of why video footage can make a crucial difference in such deadly encounters. The North Charleston Police Department does not have body cameras.
But the case of Walter Scott also provides an example of why amateur, eyewitness footage, the kind cops like to crack down on across the country, is especially important. In Red Bank, Tennessee, Candido Medina-Resendiz is suing police, claiming they assaulted him during a DUI traffic stop where he was a passenger. Dash cam footage of the incident existed, but the local police cleared themselves anyway. The cop involved, Mark Kaylor, eventually resigned from the department and was charged with felony assault after a state investigation. The Tennessee Bureau of Investigation is also investigating other issues related to the incident and its aftermath, as CBS affiliate KDEF reports:
TBI agents also investigated why the dash-cam video of the beating was never presented during the preliminary hearing inside a Red Bank court house after it was legally requested by the defendants attorney.

The lawsuit states that Red Bank hired Kaylor and [Leightaylor] Noorbergen [a supervisor who approved the arrest knowing they both have prior instances of confirmed misconduct and dishonesty at other law enforcement agencies.

According to the lawsuit, Kaylor was terminated from a Rhea County Sheriff's Office for failing to carry his duties then lying about it to his supervisor.
After a fatal or controversial use of force where police footage exists, authorities will often claim they can't release video while an investigation opens. As the Red Bank case shows, sometimes they pretend it doesn't exist. The case also reveals another policy failing that contributes to excessive police violence—the repeat hiring of officers with troubled histories. An effective police offender registry could prevent such individuals to returning to a job in law enforcement where they can hurt someone else. Lawsuits over improper hirings will help too, but only after the fact, and while taxpayers are left on the hook for police misconduct, voters rarely respond at the polls, prioritizing "safety."