States' Supreme Court Defenses of Gay Marriage Bans All Too Familiar
The fundamental question is whether marriage recognition is actually a right.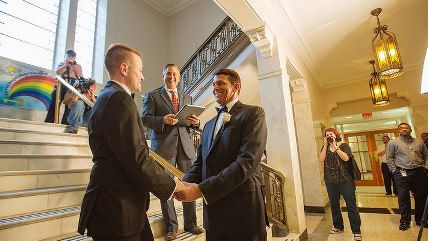 (CityofStPete / photo on flickr)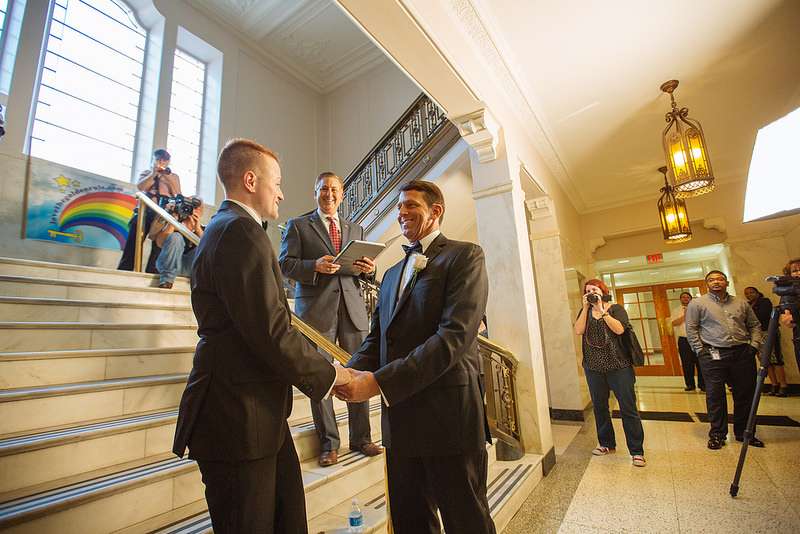 In just a couple of weeks the Supreme Court will be having a super-sized session to hear arguments over bans on same-sex marriage recognition in four states. Though each of the four states—Ohio, Michigan, Kentucky, and Tennessee—has its own case before the court, the four of them are linked together. Both sides in each case have been asked to address the same two questions: One, does the 14th Amendment require a state to recognize same-sex marriages; and two, does the 14th Amendment require a state to recognize same-sex marriages that have been lawfully performed in other states?
Interested parties have filed dozens of amicus briefs in the cases (SCOTUSBlog has a list of them here for just one of the cases. The other three have similarly long lists here, here, and here). The end of last week was the deadline for the states to file their defenses of keeping the bans. Each state has done so, and now some are analyzing them to consider the strengths and weaknesses of the arguments defending their bans. Or, you know, to be offended and appalled.
Falling in that second category is likely to be Kentucky's defense (pdf). In Bourke v. Beshear the state takes a familiar argument that tends to make eyes roll: Bans against same-sex marriage aren't discriminatory against gays because straight people also can't marry somebody of the same sex. From Kentucky's filing:
The Petitioners state that since Kentucky's marriage laws do not allow for the licensing and/or recognition of same-sex marriage, those laws are "necessarily" discriminating against same-sex couples on the basis of their sexual orientation and that because of that alleged discrimination, they belong to a classification requiring the application of heightened scrutiny. The Petitioners fail to address the fact that Kentucky's marriage laws are not facially discriminatory to gays and lesbians based upon their sexual orientation. Kentucky's marriage laws treat homosexuals and heterosexuals the same and are facially neutral. Men and women, whether heterosexual or homosexual, are free to marry persons of the opposite sex under Kentucky law, and men and women, whether heterosexual or homosexual, cannot marry persons of the same sex under Kentucky law.
Marriage supporters have dealt with this argument time and time again. The seemingly bizarre structure of this argument is actually the most useful way of slicing down to the very meat of the question: Is marriage recognition a right? Because if marriage is a right, then the burden of justifying a restriction on the expression of that right is on the government. If marriage is a right, then this argument is the equivalent of declaring that everybody is "free" to worship a particular religion approved by the state (rather than any religion—or none) or "free" to read from the same list of books the state approves. That's not the nature of rights. Citizens don't have to justify how they want to express a particular right—the state instead is expected make a case that there's a compelling reason to restrict a right in order to protect another public interest.
If marriage recognition is not a right then the expectations are different. Kentucky is arguing that gay marriage recognition is not a right. To be fair to Kentucky's argument, even though this contention is getting the most press, the state also attempts to argue other ways that marriage recognition is not a right, though they're not very compelling. They argue that in every other situation where a court ruling has treated marriage as some sort of a right (including the ending of bans on interracial marriage), it has been tied to a right of citizenry to procreate and then drifts over into presenting the familiar argument that the state has a compelling interest in procreation, because otherwise humanity would die off (without ever explaining why that would happen absent the state of Kentucky's involvement).
The problem with Kentucky's argument is that, in general, the citizenry and the state actually do treat marriage recognition like a right already. The state already makes a case for any restriction it places on the recognition of heterosexual marriage and ties it to some sort of public health or safety issue. The state doesn't actually obligate heterosexuals to engage in procreation or promise procreation in order to acknowledge their relationship under the law. And that's not even getting into the issue that—thanks to science—sexual orientation is increasingly not a barrier to reproduction.
Michigan's response in DeBoer v. Snyder (pdf), while also arguing a state's interest in overseeing procreation, takes a more interesting approach by fighting for federalism. Arguing that the states and their citizens have the right to classify what marriage means for them is not new. But Michigan's petition takes it further by pointing out that, without federalism, we probably wouldn't even be having this debate, to the detriment of gay couples:
That liberty is the fundamental right at stake here. In fact, only that liberty made it possible for 11 states already to choose to issue marriage licenses to same-sex couples—a feat not likely achievable at the federal level and impossible at the state level without democratic rights of debate and self-determination by state citizens.
And later:
Because the Constitution is silent regarding marriage, such court orders indicate a lack of faith in democracy. By teaching that courts are the fastest mechanism to achieve social change, such decisions encourage reliance on the courts for change and thus weaken democracy. This approach lessens the very dignity that the petitioners seek; rather than achieving the dignity that comes from persuading fellow citizens through the democratic process, a litigation victory merely means that a court order requires compliance.
I've been a big fan of how federalism allowed for limited gay marriage recognition in friendly states, if for no reason other than to prove that the argument for the state having a compelling reason to decide who may participate is based on nonsense. But to say the Constitution is silent on marriage is to ignore the Ninth Amendment: "The enumeration in the Constitution, of certain rights, shall not be construed to deny or disparage others retained by the people."
That's why the question of whether or not the "people" treat marriage like it's a right is so important. The Ninth Amendment doesn't actually confer any additional rights, nor is it evidence that marriage recognition is a right, but rather it's a good reminder that rights don't originate from the Constitution. How would heterosexual citizens act if the state started enacting additional regulations and barriers over their right to be recognized as married couples? It would not fly. Citizens treat marriage recognition as a right. Therefore the government has to justify its restrictions. And that's why, though I'd be perfectly fine if the states were to continue hammering out marriage laws on their own, I don't see a constitutional problem with a Supreme Court ruling ordering gay marriage recognition. The states' arguments for their restrictions simply do not address a compelling government role.