President Obama Pledges to Cut U.S. Greenhouse Gas Emissions 28 Percent By 2025
Who needs advice and consent anymore?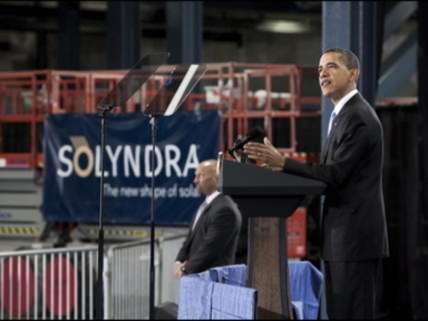 Earlier today, the Obama Administration filed its formal intended determined national contribution (INDC) at the United Nations as part of a process agreed to at earlier U.N. climate change conferences. Other nations are supposed to issue their INDCs before the up climate change meetup in Paris this coming December. The idea is to see if all of the INDCs added up will be adequate to prevent "dangerous anthropogenic interference" with the climate as agreed to under the United Nations Framework Convention on Climate Change back in 1992.
The White House Fact Sheet says that the Obama Administration intends that the U.S. cut its greenhouse gas emissions by up to 28 percent by 2025. From the Fact Sheet:
The U.S. target will roughly double the pace of carbon pollution reduction in the United States from 1.2 percent per year on average during the 2005-2020 period to 2.3-2.8 percent per year on average between 2020 and 2025. This ambitious target is grounded in intensive analysis of cost-effective carbon pollution reductions achievable under existing law and will keep the United States on the pathway to achieve deep economy-wide reductions of 80 percent or more by 2050.
The Obama Administration aims to achieve these goals by subsidizing low-carbon energy R&D ($80 billion so far), subsidizing the deployment of wind and solar power; imposing stringent CAFE standards on automobiles, and mandating that electric power generators to cut back on their carbon dioxide emissions by 30 percent by 2030.
Obama pledged in his first term that the U.S. would cut its emissions 17 percent below their 2005 levels by 2020. So far emissions are down about 10 percent.
The Obama INDC pledge was hailed by some environmentalists. For example, the World Resources Institute issued a statement from its climate change program director Jennifer Morgan:
"The United States' proposal shows that it is ready to lead by example on the climate crisis. By enacting these common sense actions, the U.S. can grow its economy and save money through cleaner technologies.

"This is a serious and achievable commitment. WRI research finds that under its existing federal authority, the United States can reach its proposed target to cut emissions 26 to 28 percent from 2005 levels by 2025. Going forward, additional opportunities for deeper reductions will be increasingly available as technology trends make clean power and other low-carbon solutions more affordable. The United States' acknowledgement of the need for "deep decarbonization" sends a positive signal.
Other environmentalists were much less generous in their assessment. Meena Raman, Negotiations Expert at Third World Network said.
"The US proposal to the UN climate talks sends a dangerous signal that the world is drastically off track to confront the climate crisis. No credible scientific assessment can say that the US proposal sets us on a path to avoid the gravest risks that climate change poses to our food systems. It completely ignores its huge historical responsibility for causing the climate crisis. This is a proposal for more drought, more devastated fish stocks, and more wars over water. The US proposal is an ingredient in a recipe for disaster."
And of course, there are those who argue that the whole plan is a political non-starter. Myron Ebell from the Competitive Enterprise Institute is one:
"President Obama has pursued his domestic climate agenda without trying to build support for it with the American people or in Congress, and today's INDC submission is no different. The President thinks he can make an international commitment to reduce greenhouse emissions by up to 28 percent of 2005 levels, and thereby limit economic growth, without consulting Congress. The administration is making this commitment to the forthcoming Paris Accord under the UN Framework Convention on Climate Change without any authorization from Congress and without broad public support. Governments in other countries should be aware that the President's plan is dead on arrival in Congress.
As Ebell points out, it is extremely unlikely that a formal ratification of the INDC by the U.S. Senate will occur. As I reported from the Lima climate change conference last December, the president is most likely planning an end run around the Congress:
Next year's Paris agreement could be interpreted by the Obama administration as not being an actual treaty requiring the Senate's advice and consent before ratification. It may instead simply be construed as an elaboration of our already existing obligations to stabilize greenhouse gases under the UNFCCC. If the Paris agreement were more procedural in form, perhaps it could be taken as being merely an extension of the UNFCCC, speculated former Clinton White House environmental aide Elliot Diringer in response to a question during a session at the U.S. Center at the Lima COP-20. In such a case, President Obama might argue that he could implement such a Paris climate agreement as an executive agreement.
It should get pretty interesting this year during the run up to the Paris climate change conference in December.