Will Casino Country Become Cannabis Country?
Indian tribes mull marijuana business opportunities.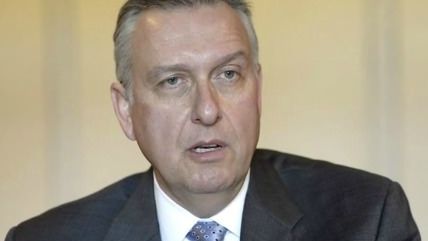 Last December the Justice Department gave a yellow light to marijuana legalization on tribal land, saying it would treat reservations like states in deciding how to enforce the Controlled Substances Act. Two months later, the very first Tribal Marijuana Conference, held at the Tulalip Resort Casino in Washington, attracted about 400 people, including representatives from 75 or so Indian tribes. They listened intently as speakers (including me) discussed the pros and cons of legalization.
"A great deal more are considering this than I thought would be considering it," Ken Meshigaud, chairman of the Hannahville Indian Community in Michigan, told the Associated Press. "From an economic standpoint, it may be a good venture the tribes can get into." Because of their sovereign status, Indian tribes are uniquely positioned to profit from the erosion of marijuana prohibition, although they still face some daunting legal pitfalls.
Start with the federal ban on marijuana, which makes anyone involved in growing or selling cannabis a felon, regardless of his status under state or tribal law. So far the Justice Department has allowed licensed marijuana businesses to operate in states that have legalized the drug for medical or recreational use. But the feds have not made any promises, and that policy is completely discretionary. It can be changed at any time, by this administration or the next.
In an August 2013 memo, Deputy Attorney General James Cole told U.S. attorneys they should focus their efforts on marijuana offenders who violate state law or implicate any of eight "federal law enforcement priorities," including interstate smuggling, sales to minors, and drugged driving or "other adverse public health consequences." As long as states adopt and enforce appropriate regulations, Cole implied, the feds will not interfere with newly legal marijuana markets. The same goes for tribal land, according to a DOJ memo published in December.
Robert Odawi Porter, a Washington, D.C., tribal law specialist who co-organized the Tulalip conference along with Seattle lawyers Hilary Bricken and Robert McVay, says the first task for tribes interested in the marijuana business is to make sure their regulations are strict enough to pass muster with the feds, keeping in mind the Justice Department's eight priorities. But even if the feds continue to hold back, tribes may need to worry about state marijuana laws.
Under Public Law 280, enacted by Congress in 1953, 15 states have jurisdiction over crimes committed on tribal lands within their borders: Alaska, Arizona, California, Florida, Idaho, Minnesota, Montana, Nebraska, Nevada, North Dakota, Oregon, South Dakota, Utah, Washington, and Wisconsin. So if a tribe started growing and selling marijuana in Florida, where the plant is banned for all purposes, anyone involved in that business would be subject to arrest under state law. "If you're in a state that bans any kind of marijuana, and the state does have criminal jurisdiction granted to it by Congress," Porter says, "that would be double-enhanced risk."
If a tribe in Nevada, where marijuana is legal for medical use, started growing and selling cannabis to patients, that would be a different story. The federal courts have held that once a state decriminalizes a particular business—gambling, for example—tribes within that state can decide for themselves how to regulate it. The implication, Porter says, is that tribes located in Public Law 280 states that allow the sale of marijuana for medical use could assert their sovereign authority to license (or run) their own dispensaries. He says they arguably could license or run recreational outlets as well, even in Public Law 280 states, such as Arizona and Nevada, that allow sales only for medical use. "If a state has legalized it for certain purposes," Porter says, "they've decriminalized it, and that action opens the door to the tribe's regulation."
That principle could be profitable even in the states (four so far) that have legalized marijuana for general use. Reservations in Washington, for example, could open marijuana stores in parts of the state where they are scarce because of local bans. Recreational sales currently are prohibited by 99 cities and 11 counties in Washington. Those jurisdictions include Yakima and Klickitat counties, where the Yakama Indian Reservation is located.
In addition to convenience, tribal marijuana outlets could offer lower prices, since their sales would be exempt from state taxes. "State taxes are generally inapplicable on tribal land," Porter notes. In Washington, taxes represent nearly two-fifths of the retail price, so the savings could be substantial. "There is some potential for short-term arbitrage on the tax rates alone," Porter says, "but I don't think it's the kind of thing that necessarily sustains itself in the long run."
Marijuana taxes in Washington and Colorado are set as a percentage of the price. As the industry develops, prices can be expected to fall sharply, so the amount of money consumers can save by avoiding the tax on a given amount will fall as well. When a gram of marijuana sells for $15 or $20, tax-free outlets are pretty attractive; when it sells for $2, not so much. Then again, revenue-hungry legislators may decide to tax marijuana by weight or THC content rather than price, in which case tax-free Indian pot stores could retain their appeal.
State restrictions on cannabis consumption present another opportunity. In Washington, Colorado, Oregon, and Alaska, consumption is banned inside marijuana outlets and in most other locations outside of private residences. Indian reservations could be the first jurisdictions in the U.S. to allow Amsterdam-style cannabis cafés that sell marijuana products along with food and beverages. Even if they are not prepared to go that far, tribes could make their casinos, hotels, and restaurants more attractive to cannabis consumers by letting customers use their own legally purchased marijuana there. "That would be the same as the analysis with cigarettes, where you can smoke in casinos," Porter says. "They can set their own regulatory policies regarding consumption."
Tribes that decide to allow marijuana cultivation also would enjoy an income tax advantage. While the tribes themselves are exempt from federal income tax, the IRS still takes a cut of money earned by tribe members. But there is an exception for farming, which means that Indians who grow marijuana or hemp on reservations where tribal law allows it would not have to pay tax on the money it generates. "Natural resource development [on tribal land] is pretty well established as a tax-immune activity," Porter says, so "individual Indians who earn income from their own tribal lands are tax immune."
Not so non-Indians involved in such operations, who would still owe federal income tax. They also would risk prosecution under state law. "If you're a non-Indian on tribal lands, the state retains its criminal jurisdiction over you," Porter says. "I've been wondering why everybody who is looking to get into this business is called a 'consultant,' and I think it's an effort to distinguish between being a manager, owner, or person in control and a person who is just giving advice. I don't think it's a meaningful distinction to law enforcement."
In states that ban marijuana but do not have criminal jurisdiction on reservations, tribes might choose to grow medical marijuana and dispense it to Indian patients. "That's the kind of thing I could imagine tribal leaders being very attracted to," Porter says, "in an effort to expand health care offerings for their citizens." A state without criminal jurisdiction on tribal land would have no authority to shut down such an operation or prosecute Indians involved in it, although non-Indians who participated would be subject to arrest.
Given all the legal risks, tribes may be inclined to move slowly, if at all, into the marijuana business. But these opportunities won't be around forever. Continued prohibition in most of the country is what makes the business especially lucrative. As with legal gambling, what is now unusual will eventually be familiar.
This article originally appeared at Forbes.com.