New York's $4 Billion Train Station: In 100 Years, Will Anyone Still Care About All That Wasted Money?
New York magazine's Andrew Rice defends Santiago Calatrava's "glorious boondoggle." Here's what he gets wrong.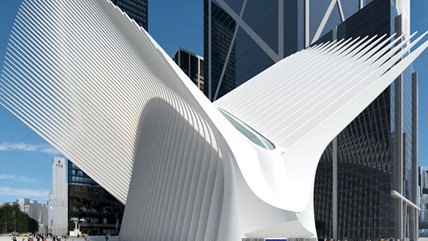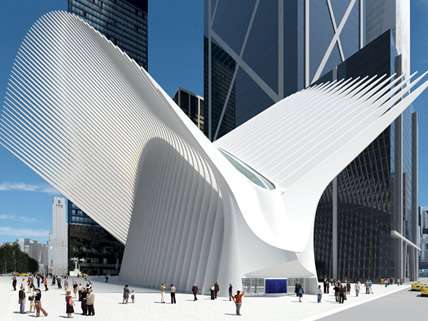 Santiago Calatrava's World Trade Center Transportation Hub in lower Manhattan, dubbed "the world's most expensive train station," will cost $4 billion, or roughly double the price tag sold to the public when the project was first announced 11 years ago. The Port Authority of New York and New Jersey, the public agency in charge of the project, has squandered hundreds of millions of dollars over the years on ill-advised construction contracts and lousy planning.
A new essay by Andrew Rice in New York magazine, "The Glorious Boondoggle," argues that none of this matters so much because it's a phenomenal structure—"No recent addition to the cityscape has aspired to combine public utility and aesthetic daring to the same degree"—and eventually we'll all forget about the wasted money. Rice approvingly quotes architect Daniel Libeskind:
Someday…people will revel in Calatrava's creation and the controversies will be forgotten. "Bernini, most people don't know, built a tower at the Vatican that collapsed," he says. "He had such a failure he thought his career would never recover. Now we look back at Bernini and say, 'wow, what an architect.' So, look, you have to give it time."
New York is indeed filled with worthwhile infrastructure project that were scandals in their own time. Is anyone still pissed that Tammany Hall embezzled millions during the construction of the Tweed Courthouse, which stands a few blocks from the World Trade Center Transportation Hub? It dominated the headlines for a period in the 1870s; today the building's considered a treasure.
But Rice doesn't dwell on how all that money otherwise could have been spent. It's no wonder that we're more apt to appreciate the public infrastructure that exists than to mourn the unnamed projects and initiatives that never came to fruition because of lousing planning and government ineptitude.
Rather than a $4 billion train station, wouldn't it have been better for the Port Authority to build out an actual train? The city's $2.4 billion extension of the number 7 train is also scandalously expensive, but at least it's the sort of project that makes the city more habitable and creates conditions for private developers to build grand structures. We could have gotten almost two of those instead of the station.
Or, taxpayers could have held on to those funds and spent them in ways invisible to the rest of us but also of benefit to future generations.
For more on the World Trade Center rebuilding saga, check out this Reason TV video Kennedy and I made back in 2012: