Could Sports Gambling Beat Marijuana to National Legalization?
Experts expect it will be legal within five years.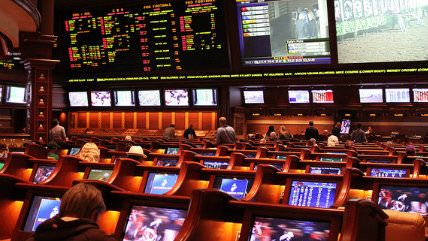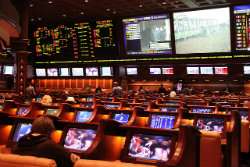 Marijuana is making serious legalization headway in the U.S., with Alaska recently becoming the third state to legalize the drug. Sports gambling, on the other hand, hasn't made any legalization progress in more than 20 years, when Congress passed the Professional and Amateur Sports Protection Act of 1992 (PASPA), formally legalizing sports lotteries in Delaware, Montana, and Oregon and individual game betting in Nevada. In 2015, those same four states remain the only ones in which any form of sports betting can legally take place.
Yet while marijuana gets all the headlines these days, gambling industry experts believe sports betting will beat pot to nationwide legalization, and in relatively short order too—by the end of the decade.
At the 2015 MIT Sloan Sports Analytics Conference over the weekend, ESPN The Magazine editor in chief Chad Millman moderated a session covering legalization efforts. Rounding out the panel were David Purdum, a journalist for ESPN; Ryan Rodenberg, an assistant professor at Florida State University; Dan Spillane, the vice president and assistant general counsel to the National Basketball Association (NBA); and Jeff Ma, the subject of the bestselling book Bringing Down the House. All the panelists seemed to believe nationwide gambling legalization was inevitable, with Purdum and Rodenberg expecting it as soon as 4–5 years.
At this year's Sloan conference, which primarily covers the use of data and analytics in sports and sports performance, nearly every panel—no matter the topic—in some way touched on legalized gambling. Participants discussed everything from how betting would impact the fan experience and sponsorship deals to how data analysis could be employed by professional bettors. Most discussions used the word "inevitable" to describe coming legalization, and one of the research paper finalists was specifically on baseball betting.
Meanwhile at the Conservative Political Action Conference (CPAC), which also took place this weekend, the "discussion" around sports gambling was quite the opposite—it didn't occur whatsoever. A representative from Sheldon Adelson's Coalition to Stop Internet Gambling (CSIG) movement, Andy Abboud, didn't show up for a scheduled debate with Poker Players Alliance (PPA) Executive Director John Pappas.
Many online poker advocates reportedly thought the no-show stemmed from Abboud's fear of being embarrassed again in a public forum. Abboud made waves at a December 2013 Congressional hearing in which he was called out by three subcommittee members for making hypocritical statements on gambling. He has also been criticized for his performance at a debate last March, when he admitted to being "lost" when it comes to tech issues (despite the fact that he lobbies Congress on exactly such issues) and resorted to calling gambling legalization proponents "Twitter creeps."
The growing confidence that gambling legalization is on the way comes in spite of a recent legal battle in New Jersey in which the state looks unlikely to win the right to legalize sports betting. Instead, legalization is expected to happen at the national level. A bipartisan team of New Jersey congressmen, Democrat Frank Pallone Jr. and Republican Frank LoBiondo, introduced separate bills in late January both aimed at giving the Garden State the ability to allow sports betting. Pallone's bill would exempt New Jersey from PAPSA, while LoBiondo's bill would give all states a four-year window to legalize sports betting.
Rodenberg expects LoBiondo's bill to gain more traction, though so far only Sen. John McCain (R-Ariz.) has joined them in publicly coming out for legalization.
UPDATE: Pallone's and LoBiondo's party identifications have been fixed.