The Early Presidential Race: It's (Not Always) Money That Matters
Rand Paul Can't Be Counted Out Because You Can't Imagine Him Counting Huge Piles of Campaign Bucks.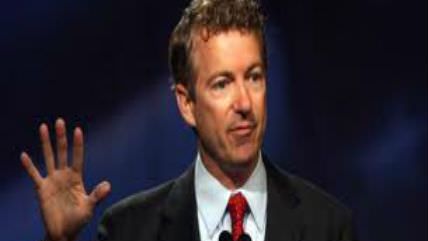 Sheldon Adelson, the GOP superfixer who brought you President Newt Gingrich, is now deadset on being the man who brings you Not-President Rand Paul, as the New York Times report Matt Welch explained yesterday reveals. Salon yesterday drilled in on the Adelson vs. Paul angle, just a synecdoche in its way for the rest of the GOP field v. Paul.
Politico a few weeks back also ran a story hooked to the idea that there is no way Rand Paul can be in there swinging with the Big Money boys after some of them were unhappy he wore jeans at a Koch summit. (It was a little more complicated.) Some excerpts:
Paul's performance as a missed opportunity for him to significantly broaden his base of megadonor support headed into a presidential election in which the two major party nominees and their allies are expected to spend upward of $1.7 billion apiece.

Big-money support is seen as a key weakness for Paul, much as it was for the presidential campaigns of his father, former Texas Rep. Ron Paul….

Supporters argue that Rand Paul, who has opened offices in Silicon Valley and Austin, can overcome that by looking outside the traditional GOP megadonor community

"Mainstream donors were never his primary target. He is bringing in guys from Silicon Valley, from the tech world, who were never comfortable with the Republican Party," [Frayda] Levin [a Paul donor] said, describing Paul's donor base as "transpolitical."
See my April story "Rand Paul: Can the Bucks Start There?" for more of this sort of doubt that the Kentucky senator can rake in the oh-so-necessary presidential bucks.
One thing such talk of the inability of freakish Paul candidates to raise cash is that Rand's father Ron Paul's $35 million in official campaign funding far exceeded that of more "viable" candidates Newt Gingrich and Rick Santorum, amounting to nearly as much as both of them combined. It is largely believed, and I suspect it will be true, that Ron's results represent a floor from which Rand the presidential candidate will only rise.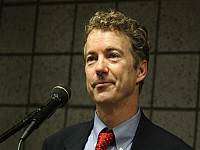 Yes, those also-rans Newt and Santorum had more uncoordinated SuperPAC funding, and much of that SuperPAC funding that went ostensibly to Paul was unlikely to have done much good.
But on a presidential level, we actually don't have any particular reason to believe SuperPAC ad efforts are more important than earned media or whether, well, voters just prefer a certain candidate or that certain candidates perceived positions and merits, once they learn about them.
More importantly, for those sure that Rand Paul will never lead the pack because they believe he can't lead in fundraising now, leading in fundraising early is no necessary predictor of future performance.
Ex-Reasoner David Weigel tweeted an important link today, a CNN report from July 2007, helping flesh out most people's vague memory that "Oh yeah, wasn't Rudy Giuliani supposed to be the nominee in '08? Ha, pundits sure got that wrong."
They sure did, and not just based on some media-created "front runner" chatter. Giuliani really was ahead, enormously, even in the currency that the more studiedly cynical insist is more important than chatter or perceived momentum: cash money.
From CNN then:
Former New York Mayor Rudy Giuliani brought in $17 million in campaign funds in the past three months, topping his two leading GOP rivals in fund-raising for the quarter, the Giuliani campaign announced Monday.

Receipts also indicate Senator John McCain's 2008 presidential bid may be in trouble.

Massachusetts Gov. Mitt Romney announced he had raised $14 million in the same time period and had lent his campaign an additional $6.5 million of his own money….McCain's campaign announced staff cuts Monday after seeing fundraising skid from $13 million to $11 million in the past three months. A McCain aide told CNN that all but $850,000 of the $11.2 million was in primary donations.

Giuliani's take was nearly $2 million higher than his first-quarter receipts, when he trailed Romney. Giuliani had more than $18 million remaining in the bank by the end of June, campaign manager Michael DuHaime said.
Guiliani was a clear frontrunner. He was a dynamite fundraiser. He had it all. He ended up with nothing, even smashed by no less a hopeless electoral case than Ron Paul.