Pussy Riot Dedicate New Song, 'I Can't Breathe,' to Eric Garner and All 'Who Suffer From State Terror'
"We've known, on our own skin, what police brutality feels like, and we can't be silent on this issue."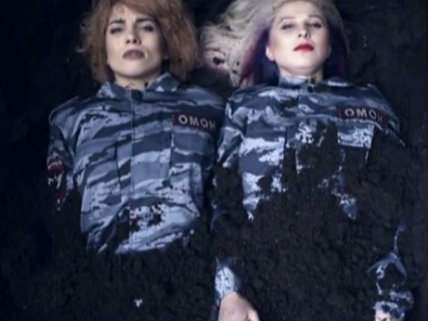 Russian punk rockers, feminists, and dissidents Pussy Riot released a new song Wednesday that was inspired by the death of American Eric Garner. The song—the group's first in English—takes its name from the final words of Garner, who was killed after an encounter with New York City Police Department (NYPD) officers in July 2014: "I can't breathe."
Pussy Riot recorded the song in December after participating in New York City protests over Garner's death and police brutality more generally. "This song is for Eric and for all those from Russia to America and around the globe who suffer from state terror—killed, choked, perished because of war and state sponsored violence of all kinds—for political prisoners and those on the streets fighting for change," the group posted on YouTube. "We stand in solidarity."
In the video for "I Can't Breathe" (posted below), two band members appear in Russian riot police uniforms as they're slowly buried alive. The song also features U.S. punk icon Richard Hell, Yeah Yeah Yeahs drummer Nick Zimmer, and other Russian and American musicians. Pussy Riot gained notoriety among Americans in 2012 after an anti-Putin protest at Russia's Cathedral of Christ the Savior got three members—Nadya Tolokonnikova, Yekaterina Samutsevich, and Masha Alyokhina—charged with "expressing clear disrespect for society…on the grounds of political, ideological, racial, ethnic, or religious hatred or enmity." Samutsevich was quickly released on probation, but Tolokonnikova and Alyokhina both spent more than a year in a Russian penal colony before they were released.
In The Guardian, Tolokonnikova and Alyokhina explained that "I Can't Breathe" isn't "like other Pussy Riot songs. It's an industrial ballad. … The absence of our usual aggressive punk vocals in this song is a reaction to this tragedy."
Eric Garner's last words "are his, but we hope they can also stand for us and for many around the world, for all who can't breathe because authorities act with impunity and feel invincible and above the law in using power to humiliate, intimidate, hurt, kill and oppress," they continued. "We've known, on our own skin, what police brutality feels like, and we can't be silent on this issue."