Clarence Thomas Attacks the Supreme Court's 'Increasingly Cavalier Attitude Toward the States' on Gay Marriage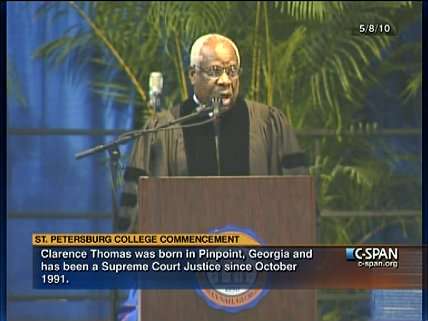 Last month a federal judge invalidated Alabama's ban on gay marriage. In response, state officials asked the U.S. Supreme Court to put that ruling on temporary hold while the state pursued its appeal at the federal appellate court level. Today the Supreme Court denied the state's request and allowed the lower court's ruling to go into effect.
That decision has apparently infuriated Justice Clarence Thomas. In a rare maneuver, Thomas, joined by Justice Antonin Scalia, has dissented from the Court's denial of the state's request, arguing that today's action represents an "indecorous" dereliction of judicial duty and an affront to the sovereignty of the states. "When courts declare state laws unconstitutional and enjoin state officials from enforcing them, our ordinary practice is to suspend those injunctions from taking effect pending appellate review," Thomas writes. Yet in this case, "the Court looks the other way" and offers "yet another example of this Court's increasingly cavalier attitude towards the States."
According to Thomas, "I would have shown the people of Alabama the respect they deserve and preserved the status quo while the Court resolves this important constitutional issue."
Justice Thomas' dissent in Strange v. Searcy is available here.