Shake Shack vs. McDonald's: Why It's Great News that Better Burgers are Winning the Fast-Food Wars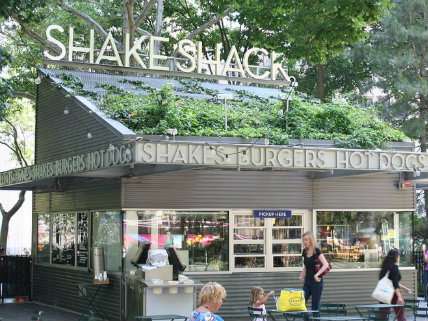 Hamburger fans, rejoice: Better burgers are winning the fast-food wars.
On Wednesday, McDonald's—the biggest and most successful brand in fast food—announced that its current CEO, Don Thompson, would be stepping down. The departure comes on the heels of a lackluster earnings report and a steep drop in overall sales as competition from new entrants has increased.
This morning, shares of Shake Shack, a rapidly growing burger chain that grew out of a hot dog stand in Manhattan, shot up in price during the company's first day of public trading. The restaurant chain has just 63 locations, but it's now worth an estimated $1.6 billion.
The problems facing McDonald's are obvious: Because it is so well known and so dominant, it has a hard time changing in response to market demand. Its success gives it access to tremendous resources, but its all-things-to-everyone approach, and the inevitable bloat that tends to accrue at any successful legacy business, leaves it vulnerable to new players that can do fewer things better—like, for example, Shake Shack.
Shake Shack is one of the flagship brands in the rapidly growing "fast casual" sector, which competes in the space somewhere between fast food restaurants like McDonald's and sit-down chains like TGI Fridays.
Shake Shack is obviously not as big as McDonald's, but it's far more nimble, and it can focus on quality in a way that McDonald's simply can't. As The New York Times says, the company conceives of itself as a sort of "anti-McDonald's," with better ingredients, better cooking methods, and better customer service. Yes, it offers fewer items and locations, and its prices are a little higher. But Shake Shack doesn't have to be all things to everyone; it has to be the best thing for the people who want it.
The competition between old-guard fast food giants and upstart fast-casual competitors offers a handy reminder of the ways that markets and creative destruction work to better serve the individual interests of consumers over time.
McDonald's was a great innovation in its day, and it has been amazingly successful over the years. I've certainly eaten plenty of McBurgers myself, but there's no real question that, overall, Shake Shack and other specialty burger shops now have the better, more appealing product. And the proliferation of a wide array of fast casual specialty restaurants—places like Sweet Green and Chipotle—means that there are now more options for those who want something other than burgers, fries, and shakes.
A market shakeup story like this is the kind of thing that's easy to overlook, or to dismiss as a simple business story to be ignored unless you're a fast food investor. But I like to think these sorts of events illustrate the ways that, little by little, over time, markets and competition improve and adapt, providing more choice and more quality in ways that continually make our lives more interesting and more enjoyable—or at the very least, a little tastier.