Ban Military Gear to Cops, Say NH Lawmakers
Concord's police chief once named Free Staters as a target for his department's up-armored might.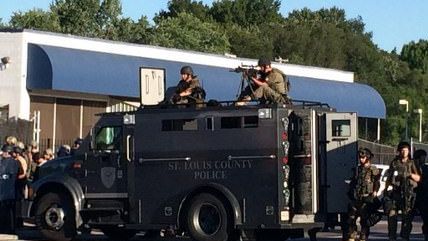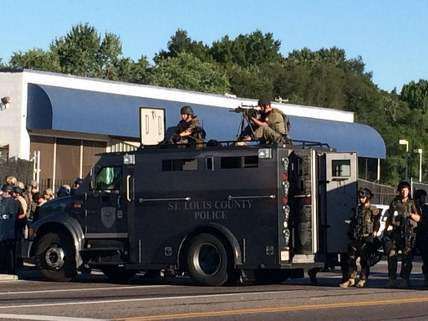 After a year in which Americans were treated to the sight of camouflaged cops brandishing automatic weapons and riding armored vehicles as they stared down protesters, some New Hampshire legislators have had enough. Led by Rep. JR Hoell (R-Dunbarton), they've reintroduced a bill "prohibiting the state and political subdivisions from acquiring military-equipped vehicles or equipment which are not readily available in an open national commercial market."
Hoell, a New Hampshire delegate for Ron Paul's last presidential run, made a previous try at this issue after Concord used a federal grant to purchase a BearCat armored vehicle. That was the infamous incident in which Free Staters were called out by Concord Police Chief John Duval as potential targets of the police department's new might.
Despite the local fuss, the bill never gained traction.
"At the end of the day, we have a law enforcement agency that is more militarized than we intended," Hoell told a sparsely attended hearing on his bill.
But that was before Ferguson and a year of revelations about just how many military-style goodies were channeled to police departments around the country by the Pentagon and the Department of Homeland Security. They included rifles, armored vehicles, grenade launchers, and body armor, along with more benign supplies.
Last year, the Concord Monitor reported, "Beyond BearCats, Hoell said the bill includes any fully automatic firearms that can't be bought on the commercial market."
Presumably, this year's reintroduced measure, which has drawn bipartisan support, would do the same. The text reads:
Except as provided in paragraph I [which makes an exemption for the state guard] , no state agency or political subdivision of this state shall acquire, purchase, or otherwise accept for use any military-equipped vehicle or military grade hardware, including but not limited to armored personnel carriers, Title II weapons, unmanned aerial vehicles, or unmanned ground vehicles, unless such military grade vehicle or hardware is readily available in an open national commercial market. The adjutant general shall notify the state attorney general of a violation of this paragraph. Any military-equipped vehicle or military grade hardware acquired in violation hereof shall be forfeited.