2014 Was Another Banner Year for Letting Innocent People Out of Jail
Last year 125 people were freed from prison due to innocence, including six on death row.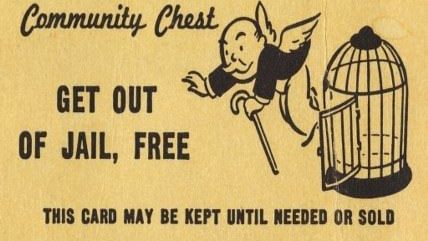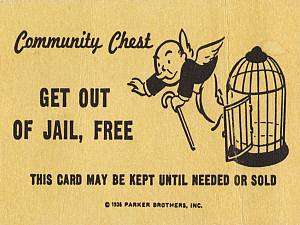 The National Registry of Exonerations at the University of Michigan Law School has put out its report for 2014, and once again, America is breaking new ground in letting innocent people out of prisons. Last year, 125 people were freed from prison. This beats the 91 freed in both 2012 and 2013. The report notes, though, that one of the reasons the number is so much higher this year is due to 33 exonerations in drug cases in a single county, Harris County, in Texas.
Who does the registry credit for this increase? Prosecutors. No, really. The report notes a rise in exonerations due to the efforts of Conviction Integrity Units, which work within prosecutors' offices to identify and fix false convictions. Most of the exonerations mentioned in Harris County were a result of the work of a Conviction Integrity Unit. There were 10 exonerations in Brooklyn murder cases due to another unit.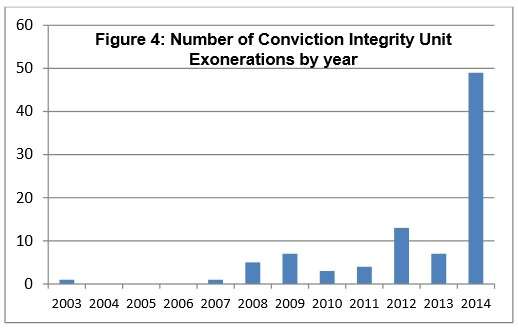 Some other details:
Six death sentences were overturned and the prisoners exonerated in 2014. It was the highest number since 2009. Each of the prisoners had been on death row for at least 30 years.
DNA evidence is still not as significant a player in exonerating prisoners as folks might believe. DNA evidence played a role in only 22 cases in 2014. The percent of exonerations where DNA evidence contributed has been dropping steadily since 2005.
In nearly half of the cases that led to exonerations, it turned out no crime actually occurred at all. Such was the case with nearly all the drug convictions that were overturned. Wondering how that worked? The report looks at those exonerations from Harris County. It turns out the "drugs" police grabbed didn't actually have drugs in them. Police detected drugs in field tests, but subsequent lab tests cleared the substances. But the defendants had entered guilty pleas (plea deals), and those subsequent lab tests were considered of low priority and sometimes didn't happen for years, so they didn't know. The report notes that there were 40 additional case dismissals in Harris County after they fixed this system, but those don't count as "exonerations" under the report's methodology.
More than half of the exonerations came with the assistance and even the initiative of law enforcement agencies. The report notes, "Judging from known exonerations in 2014, the legal system is increasingly willing to act on innocence claims that have often been ignored: those without biological evidence or with no perpetrator who can be identified because in fact no crime was committed; cases with comparatively light sentences; and judgments based on guilty pleas by defendants who accepted plea bargains to avoid pre-trial detention and the risk of harsher punishment after trial."
Read the full report here (pdf).