2Chainz Scores Libertarian Points in Legal Pot Debate with Nancy Grace
"I just feel like everybody should basically take care of their own."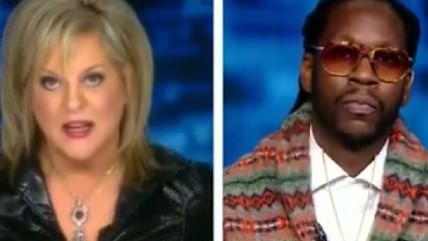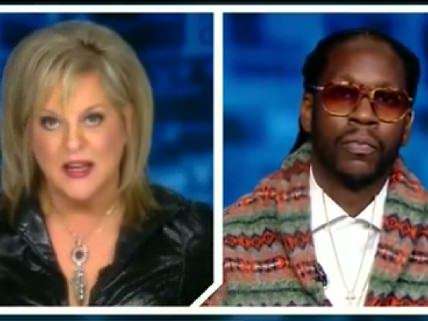 Rapper 2Chainz debated the subjects of marijuana legalization and drug culture with Nancy Grace on her show last night. He dressed his argument for legal pot in the language of personal responsibility, leading The Atlantic's David Graham to semi-jokingly hail him as a "conservative icon." But conservatives should back off; it's the libertarians who have a claim on this provocative hip hop artist.
2Chainz's performances are indeed laden with drug imagery, and he appears to smoke pot in his music videos. To Grace's slight credit, she didn't accuse 2Chainz of being personally irresponsible with drugs or putting his own children in danger. Rather, her argument was that his promotion of drug culture would lead other people to abuse drugs and hurt themselves and their families.
But right off the bad, 2Chainz tossed that argument out in awesome libertarian fashion:
I don't think you could put an umbrella on the whole community [of drug users]… I just feel like everybody should basically take care of their own… so it's about governing your own household, it's about taking care of your own property, it's about having some kind of structure.
If people abuse drugs, blame them, not the drugs, argued 2Chainz.
Like a true libertarian, he also went after the drug war, criticizing marijuana prohibition as a costly failure with many ill social effects. At one point, he mentioned that nonviolent drug convictions were making it tough for black people to buy homes. Grace's retort would persuade no one: "If you want to qualify for a home, then why don't you just not smoke pot?"
2Chainz also fretted that drug investigations were a waste of taxpayer dollars—something he knows from personal experience.
Decide for yourself who won the debate below. More from Reason on Nancy Grace—who believes "Hopped Up Reefer Maniacs Are Strangling People, Killing Whole Families"—here.
And watch Nancy Grace debate her worst enemy here.