Foie Gras Is Back on the Menu: What the Decision Means
Chefs and consumers are overjoyed. Some legal experts in the state are also satisfied.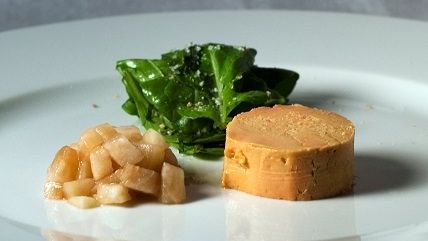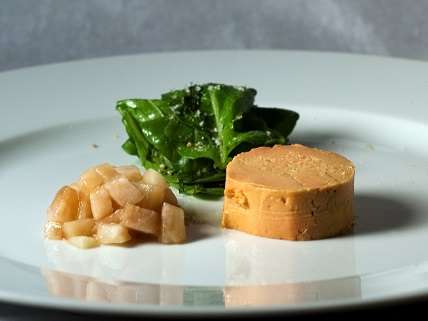 Earlier this week, in a welcome and long-awaited decision, U.S. District Court Judge Stephen V. Wilson ended California's two-and-half-year-old foie gras ban. Judge Wilson rejected the ban as unconstitutional, holding that it is preempted because it conflicts with the federal government's Poultry Products Inspection Act.
Within hours, foie gras was already back on menus in the state. Many chefs and consumers are overjoyed.
"Before the ban, foie gras was the most popular item on our menu, and I expect it will be again starting tonight," said chef Ken Frank, of Napa's La Toque, on Thursday, the day the ban was lifted.
Another happy Californian is attorney Michael Tenenbaum, who represents the foie gras producers and sellers in the case.
"California's attempt to ban the sale of foie gras was misguided from the start, and we're all grateful that the court recognized this law as unconstitutional," said Tenenbaum in an email to me late this week.
Other legal experts in the state are also satisfied.
"The decision is a good one as far as practical impact on food freedom," says Jeffrey Dermer, an attorney in Southern California who has followed the foie gras case closely, also by email. "The Court said that states cannot impose sales restrictions based on a process (here, selling poultry products that have been 'force fed' somewhere else) because it is pre–empted."
But animals rights groups, which supported the ban, are vowing to fight on.
"We expect the 9th Circuit will uphold this law, as it did in the previous round of litigation," says Paul Shapiro, vice president of farm animal protection with the Humane Society of the United States, in an email to me this week. "Force feeding is not an 'ingredient' of foie gras since foie gras can be produced without resorting to such cruel methods. We are asking the California Attorney General to appeal the ruling."
As the L.A. Times reported, a coalition of animal rights groups, including HSUS, issued a joint press release after the decision, predicting—as Shapiro did—that the 9th Circuit Court will ultimately uphold the ban.
Indeed, the 9th Circuit Court of Appeals did reject an appeal seeking an injunction that would have halted enforcement of the foie gras ban while the lawsuit proceeded. Victory in that case would have meant the sale of foie gras would have been permitted pending the outcome of the lawsuit. Instead, the loss meant that the sale of foie gras was banned in the state until yesterday's decision.
But animal rights groups can't possibly hope the 9th Circuit will side with them in the foie gras case. First, the very same judge who sided with California in 2013—Judge Wilson—has now sided with foie gras supporters. Second—and far more important—is the Supreme Court case, National Meat Assn. v. Harris, that forms the basis of Judge Wilson's decision this week.
In National Meat, which I wrote about here, 9th Circuit Judge Alex Kozinski upheld a California law that allowed the state to set standards for raising pigs. Kozinski held California was not preempted, and wrote that states are free to decide which animals may be turned into meat.
In a subsequent unanimous decision reversing the 9th Circuit's holding in that case, Supreme Court Justice Elena Kagan responded directly to Judge Kozinski's claim that states could decide which animals may be turned into meat. "We think not," she wrote on behalf of herself and her eight colleagues on the bench.
That means animal rights supporters have pinned their hopes on Judge Kozinski and his colleagues on the 9th Circuit to do two things. First, the 9th Circuit would have to reverse the District Court's ruling in the foie gras case. Second, they would have to do so by completely ignoring a recent unanimous Supreme Court decision that overturned the 9th Circuit's own decision in a similar case, and did so with language rebuking the reasoning of the 9th Circuit's argument that states are free to decide which animals may be turned into meat.
I've long predicted a victory for foie gras supporters.
"I'm confident that the foolish and unconstitutional foie gras ban that California legislators passed will remain on the books for just a little while longer," I wrote in 2012.
I'm pleased that victory has arrived. I'm also happy, as I discussed here and here, that this foie gras victory likely means the end for California's unconstitutional egg crate law.
Notably, though, I quibble with the District Court's rationale in the foie gras case. I believe strongly that even in the absence of a federal law that preempts California from legislating, the state has no authority to regulate interstate commerce. The foie gras ban isn't unconstitutional primarily because Congress has legislated in this area but because California cannot legislate in this area.
Jeffrey Dermer, the California attorney, agrees.
"From a freedom perspective," says Dermer, "it is kind of sad that your right to eat what you want to eat depends on the existence of a federal distribution law and not principles of freedom and logic."
Still, neither Dermer nor I would deride the outcome. This week's court ruling is a huge victory for supporters of food freedom. But it's just a first step. The appeals process in this case will provide even greater opportunities for victories in the months and years that follow.