Bloomington to Bill Protesters for Police Presence at 'Black Lives Matter' Demonstration in Mall of America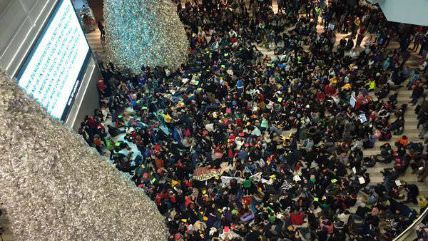 (Black Lives Matter Minnesota/Facebook)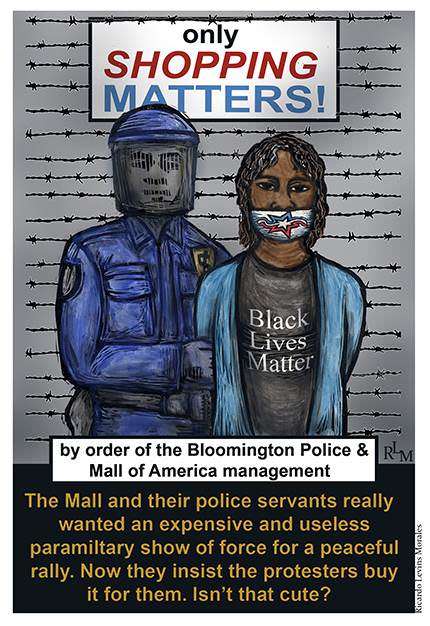 On December 20, several thousand people gathered at Bloomington, Minnesota's Mall of America to protest recent police misconduct and brutality. Their efforts were, technically, criminal: Mall of America has long forbidden demonstrations within the shopping mega-center and, prior to the event, Bloomington Police urged protesters to choose another venue. They refused. For two hours, the peaceful but unlawful assembly marched through Mall of America with protest chants and #BlackLivesMatter signs.
Police mostly didn't interfere with the protest but stood by to ensure "the safety and security of MOA guests, tenants, and demonstration participants," according to a city press release. Twenty-five individuals were arrested for trespassing. No injuries or damage to mall property were reported.
To me, it seems like the story should end here. Yes, Mall of America is private property—albeit private property heavily subsidized by the government—and, as such, demonstrators were trespassing. Organizers said they chose to demonstrate at the mall in spite of this because it was the most high-profile location in the area. That's a choice they made and, as with many other protests, high visibility may come with some tradeoffs—namely, that demonstrators could face arrest.
But if Bloomington Police were going to arrest protesters, during the event was the time to do so. Instead, the city let the event go down largely unfettered but now plans to bill protest organizers for the ample police presence—including riot cops, state troopers, Bloomington officers working overtime, and officers called in from other cities—at the mall.
Last week, Bloomington City Attorney Sandra Johnson said authorities are working to identify the demonstration's "ringleaders", who may face charges of disorderly conduct, trespassing, and/or inciting a riot. They will also face "staggering" restitution charges, she said. This money would not, however, go to Mall of America for the potential business losses it incurred. Rather, it would go to the city to cover the cost of policing the event.
That's a hell of a way to handle "criminal justice", no? Private property owners lose. Peaceful demonstrators lose. But the city makes money at everyone's expense!
In a letter to Johnson and Mall of America administrators, a group of clergy involved with the protest question why such a large security force was needed anyway. "We were shocked and dismayed to see that the Mall of America did not believe the peaceful intentions of the peaceful gathering," states the letter.
"In early December, over 7000 people filled the same Rotunda in memory of one who died too soon to cancer, to raise awareness and money for cancer research. Apparently there was no strong police presence, they were not met with police in riot gear, and no extra law enforcement officials (were) called in. We, too, gathered to remember untimely deaths of unarmed black men and boys and to raise awareness of police brutality."
The Mall of America has a long history of legal controversy concerning protests there. In the 1990s, a Minnesota court found that because of the mall's reliance on substantial public subsidies, it was "born of a union with government" and could only place reasonable time, place, and manner restrictions on protests, not ban them all together. But the Minnesota Supreme Court reversed the lower court's decision in 1998.
Past Mall of America protesters have faced arrest, notes the Minnesota StarTribune, "but this appears to be the first time restitution is being sought from protesters." Since the city's announcement about the charges, local activists have been sharing outrage and information on Twitter with the hashtag #chargemetoo.