Santa Came Early and Defense Contractors Got All the Good Toys Already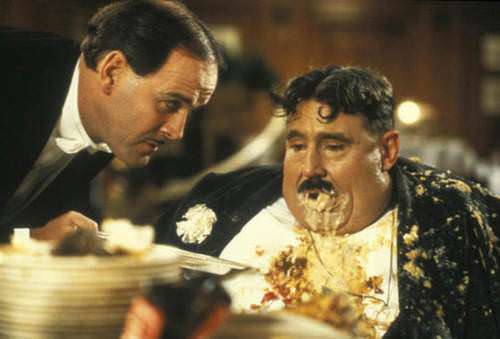 Reason contributor and Mercatus Center economist Veronique de Rugy writes at The Daily Beast that the defense budget came out a real winner in this year's spending bill. Merry Christmas if you are getting some of the dough. Drinks on you.
Who says Democrats and Republicans can't get along? This week president Obama signed a massive one-stop bill (a.k.a "Cromnibus") that will keep the government funded until the end of the fiscal year. Among other things, the bill appropriates $1.1 trillion in funding—including over $550 billion for the Department of Defense….

Although Congress managed to stay within agreed upon budget caps for the second year in a row, that's about the best that can be said for the Cromnibus. Indeed, lawmakers appeared to be primarily concerned with pleasing defense contractors and protecting defense jobs back in the District. The Project on Government Oversight (POGO) found that the bill included billions of dollars that the Pentagon didn't request. Among the unrequested programs were $341 million to modernize twelve Apache helicopters and nine Black Hawk helicopters, $1 billion to begin work on an additional San Antonio-class amphibious transport dock ship, $154 million for an additional P-8A Poseidon Navy surveillance aircraft and $1.46 billion for fifteen EA-18G Growler electronic warfare planes. However, the prize for the most egregious unrequested item goes to the $479 million to be spent on four additional F-35 fighter jets (bringing the total number funded to 38).
To make matters worse, Santa doesn't just stuff stockings at the Pentagon. Spending on "defense-related" things and activities gets spread around like the clap at a brothel stationed near an army camp. In fiscal 2013, de Rugy explains, the base defense budget was $503 billion.
But that excludes an additional $82 billion in war funding, the $25 billion for the nuclear weapons programs contained in the Department of Energy's budget, and all the defense related money spent through the Department of Homeland Security, Veterans Affairs and International Affairs. Once you add it all, the total defense spending for fiscal year 2013 is roughly $861 billion—and that's not including interest, which amounts to roughly $58 billion.
Related: Click on chart.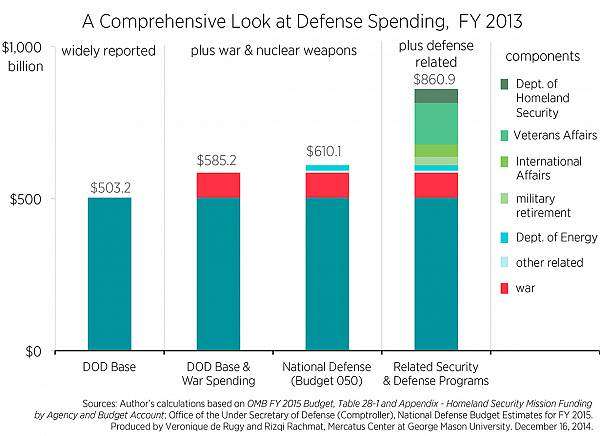 Who else got loads of gifts in the #cromnibus? Take a look: