Friend Disputes Police Narrative in Death of Miami Graffiti Artist Demz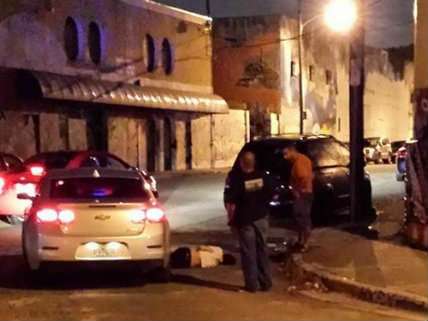 Last Tuesday I blogged about Delbert Rodriguez Gutierrez, a graffiti artist better known as "Demz", who was hit by a Miami Police car after being caught tagging at the art festival Art Basel. At the time, Demz was in critical condition with a brain injury. He died Tuesday night, becoming the latest in a long list of recent, suspicious fatalities at the hands of U.S. police.
Miami Police Officer Michael Cadavid, who was driving the car that hit Demz, said the 21-year-old had fled from cops and turned down a side street, where he crouched down and hid between two cars. When Cadavid turned the corner in his car, Demz jumped out at him, claimed Officer Cadavid.
"It's unfortunate that the young man tried to run from police," Miami Police Chief Manuel Orosa said by way of condolences.
But family and friends are skeptical of the police narrative, reports the Miami New Times. Danny Garcia, a friend tagging with Demz that night, said there's no way Demz had time to disappear around a corner and hide before police hit him:
As Garcia was finishing up his tag, he says, he glanced over his shoulder to check on his friend. That's when he saw the flashing red and blue lights from an unmarked silver Chevrolet sedan—a patrol car driven by Det. Michael Cadavid—approaching. Garcia took off sprinting. As he ran, he glanced back to check on Rodriguez, only to see a flash of his friend's white T-shirt as he abruptly rounded the corner onto 24th Street, followed closely by the Chevy.

Garcia kept running but then returned to the scene a few minutes later after hearing ambulance sirens. He questions the police's suggestion that they lost sight of Rodriguez or that his friend would have been able to hide between parked cars or lunge into the street. There simply wasn't time, he says.

"It was literally seconds," he said of the time from when Garcia began running to when he would have been hit as Cadavid's car turned the corner. "There wasn't no 'He was running and then he hid,' like they said. He tried to cross the street, and whatever happened, the cop struck him."

A widely circulated photo posted on Instagram seems to support Garcia's claims. In the photo … Rodriguez is splayed on the ground in front of the Chevy, stopped midturn as it rounded the corner. Only one parked car is visible near Rodriguez. "Where would he hide, just on the road?" Garcia asks. "That whole story they gave is baloney."

"It looked like he was trying to run across," Garcia adds. "And the cop turned the corner really quick and struck him… I'm really hoping it was an accident, but I don't know if he purposely ran my friend over."
Officer Cadivad's Internal Affairs file, reviewed by the paper, shows a history of complaints about his aggressive behavior, road rage, and use of force. Most of the complaints were ruled inconclusive. In one, Cadivad was found negligent and guilty of improper procedure for his role in an "infamous" incident involving Miami cops getting rough with Halloween revelers.
A video allegedly from the hacker group Anonymous says: "Miami Police, you have caught our attention. Art is not a crime, and we will not tolerate fellow artists being in danger for expressing their first amendment rights by the same people who swore an oath to uphold and protect that very right."