Sydney Siege Update: Is This an ISIS-Inspired "Lone Wolf" Attack?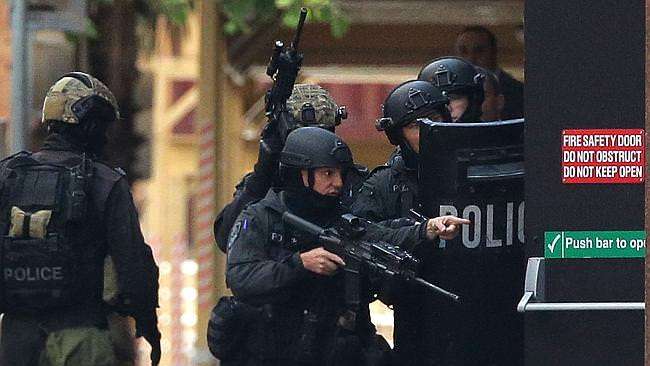 Apparently the hostage situation in Sydney, Australia, where a gunman has taken control of a local cafe and is holding people at gunpoint, is continuing. From NBC News:
Five hostages managed to flee the scene of the attack, which analysts suggested had the hallmarks of an ISIS-inspired "lone wolf" attack. Police would not confirm how many were still being held inside the Lindt cafe — where a black flag used by Islamist groups in the Middle East has been shown in the window….

The flag shown in the cafe's window as the hostage drama unfolded appeared to be the Tawhid Banner. NBC News terrorism analyst Evan Kohlmann, added that it was frequently used by Jabhat Al-Nusra and other armed Islamist groups in the region — but not ISIS.

Grand Mufti Ibrahim Abu Mohamed, the highest Islamic office holder in Australia, said in a statement that the Muslim community was "devastated" by the incident, adding that "such actions are denounced in part and in whole in Islam."

The hostage incident comes after police carried out a series of major anti-terrorism raids throughout Sydney in September. ISIS spokesman Abu Muhammad al-Adnani has also urged Muslims in Australia to carry out "lone-wolf" attacks against civilians, according to terrorism analysts at the SITE Intelligence Group.

It was one of the biggest security operations in Sydney a January 1984 when Turkish-born man went on a bank robbery spree, taking 11 people hostage and fleeing the scene before being shot dead in a dramatic road chase. In February 1978, a bomb outside the Sydney Hilton killed to garbage truck workers.