After Escaping Chris Christie's Clutches, Ebola-Negative Nurse Faces Detention by Her State's Governor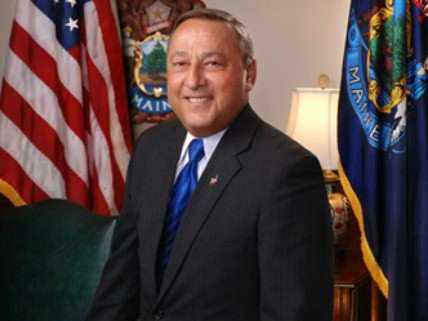 Kaci Hickox, the nurse who escaped New Jersey Gov. Chris Christie's clutches on Monday, now faces a threat of confinement by Maine Gov. Paul LePage. On Friday, as I note in my column today, Hickox became the first person to be forcibly isolated under Christie's new 21-day quarantine policy for health care workers returning from Africa after treating Ebola patients. Hickox has never shown symptoms of Ebola and repeatedly tested negative for the disease while confined at University Hospital in Newark over the weekend, which is why Christie, by his own account, let her leave New Jersey for her home in Maine. LePage nevertheless wants Hickox to remain at home until the 21-day quarantine period ends in mid-November. Today she said she prefers not to, since she is neither sick nor contagious. In response, LePage said he will try to compel her compliance.
"Upon learning the healthcare worker intends to defy the protocols," says a statement from LePage's office, "the Office of the Governor has been working collaboratively with the State health officials within the Department of Health and Human Services to seek legal authority to enforce the quarantine." Meanwhile, "The Maine State Police will monitor the residence in Fort Kent where the healthcare worker is staying, for both her protection and the health of the community." That sounds like LePage is exercising a legal authority he does not yet have by enforcing a quarantine that has not yet been ordered. He explains why:
We hoped that the healthcare worker would voluntarily comply with these protocols, but this individual has stated publicly she will not abide by the protocols. We are very concerned about her safety and health and that of the community. We are exploring all of our options for protecting the health and well-being of the healthcare worker, anyone who comes in contact with her, the Fort Kent community and all of Maine. While we certainly respect the rights of one individual, we must be vigilant in protecting 1.3 million Mainers, as well as anyone who visits our great state.
LePage, a Republican up for re-election next Tuesday, is right that "1.3 million Mainers" (many of them voters!) deserve protection from imminent threats to their health. But there is no evidence that Hickox poses such a threat, and no reason to think that daily monitoring for symptoms cannot provide adequate protection in the event that Hickox does become ill, without the need to detain her at gunpoint. Ebola is not airborne; it is transmitted through contact with the bodily fluids of people who are infected, a risk that does not arise until fever and other symptoms appear. As The New England Journal of Medicine notes in an editorial published on Monday, "an asymptomatic health care worker returning from treating patients with Ebola, even if he or she were infected, would not be contagious," and "fever precedes the contagious stage." Contrary to what LePage seems to imagine, someone with a normal temperature who tests negative for the virus will not suddenly become violently ill during a trip to the grocery store and start vomiting on fellow shoppers, setting off an epidemic.
Maine Health and Human Services Commissioner Mary Mayhew says a quarantine policy based on such outlandish, scientifically unfounded scenarios is "a reasonable, common-sense approach." The New England Journal of Medicine calls it "unfair and unwise," warning that it will "impede essential efforts to stop these awful outbreaks of Ebola disease" by deterring medical professionals like Hickox from volunteering their efforts. "These responsible, skilled health care workers who are risking their lives to help others are also helping by stemming the epidemic at its source," the journal says. "If we add barriers making it harder for volunteers to return to their community, we are hurting ourselves."
Christie, desperate to justify what looks like an embarrassing overreaction, keeps falsely claiming that Hickox was "obviously ill" when she arrived at Newark Liberty International Airport on Friday. According to her account, which as far as I know is uncontradicted, the only evidence of illness at the airport was an erroneous reading from a forehead thermometer indicating a temperature of 101, which she attributes to the fact that she was "flushed and upset." At the hospital, a more-accurate oral thermometer indicated a normal temperature of 98.6, while a forehead thermometer still registered 101. Hickox says a doctor told her: "There's no way you have a fever. Your face is just flushed." Hickox did not display any other symptoms, and she tested negative for Ebola, which is why she was released from the hospital on Monday.
Here is how Christie spun this sequence of events yesterday:
She hadn't had any symptoms for 24 hours. And she tested negative for Ebola. So there was no reason to keep her. The reason she was put into the hospital in the first place was because she was running a high fever and was symptomatic.

If people are symptomatic they go into the hospital. If they live in New Jersey, they get quarantined at home. If they don't, and they're not symptomatic, then we set up quarantine for them out of state. But if they are symptomatic, they're going to the hospital.
A temperature of 101 does not qualify as "a high fever" in an adult, and even that reading seems to have been erroneous. As Christie should know by now, Hickox never had "a high fever" or any other symptoms. By continuing to claim otherwise, he implies that she was sick but got better, which suggests that she might get sick again at any moment.
"I remain appalled by these home quarantine policies that have been forced upon me, even though I am in perfectly good health and feeling strong and have been this entire time completely symptom free," Hickox said on NBC's Today show this morning. As I argue in my column, which discusses the legal standards usually applied in quarantine cases, the government does not have "clear and convincing evidence" that Hickox poses a threat to the general public, and home confinement is not the "least restrictive alternative," given the option of daily symptom monitoring.