24 Armed Cops and a Military Truck Dispatched to Take Money from Old Man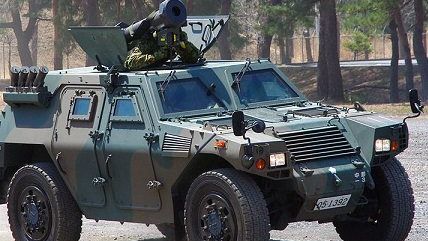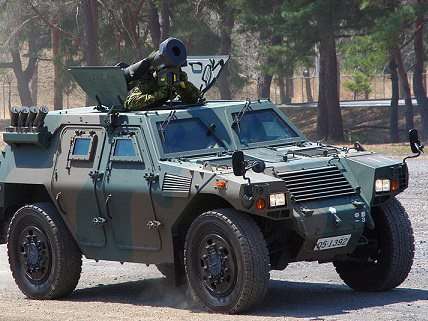 How many cops does it take to collect a civil judgment from a 75-year-old man? The town of Stettin, Wisconsin evidently believed the answer was 24—and an armored military vehicle for good measure.
The full might of the Stettin police force was dispatched to seize $80,000 from the elderly Roger Hoeppner, who restores antique trucks and old pallets on his 20 acres of property. Hoeppner originally got himself in trouble with the town because his junk collection violated certain zoning and sign ordinances. After years of legal disputes, a judge ruled that he would have to pay $80,000 in fines and attorney's fees for the town.
According to the Journal Sentinel:
Marathon County officials aren't apologizing for their tactics. Sheriff's Capt. Greg Bean said officials expected to have to seize and remove tractors and wooden pallets to pay the judgment — hence the cadre of deputies. He also said what while Hoeppner was never considered dangerous, he was known to be argumentative.

Bean said deputies had to handcuff Hoeppner because he was not following all their instructions, but did eventually agree to pay the $80,000 judgment after a visit to a bank — accompanied by deputies.

Bean also said the armored truck was summoned only after Hoeppner initially refused to come out of his house. Once the truck appeared, so did Hoeppner.

"I've been involved in about five standoff situations where, as soon as the MARV showed up, the person gives up," saving time, money and increasing safety, Bean said.

"People may not always understand why, but an armored vehicle is almost a necessity now," Bean said.
You heard it here first: A small-town cop thinks an armored vehicle is a necessity in order to remove harmless old men from their homes and confiscate their property.
Hoeppner, on the other hand, said the scene was frightening and cost his wife a trip to the hospital:
He described deputies with guns drawn walking around his garage.

Asked if he was, as the sheriff's captain described him, argumentative, Hoeppner admitted he was probably "hostile," though not threatening when confronted with a writ.

"The $86,000 figure is enough to shock most men," he said. "And they wanted it now, today." He said the town later agreed to $6,000 less because it wouldn't have to pay for hauling away his other equipment to sell.

Hoeppner estimates that, in all, his battle with the town has cost him about $200,000, a retirement fund he "worked very hard to accumulate." In addition, he said, his arrest the day the armored truck appeared upset his wife so much, he had to take her to a hospital for a few hours.
Read more from Reason on the disturbing trend of small-town police forces acquiring military weaponry and vehicles here.