Tonight on The Independents: South Dakota Independent Senate Candidate Larry Pressler, Dems Fleeing Obama, The Invisible Ebola Czar, Zuckerberg's Millions, the One-Man Highway, Michael Moynihan, Mollie Hemingway, Michael Weiss, and Aftershow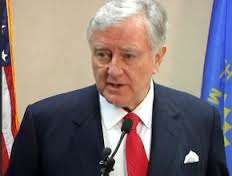 Tonight's live episode of The Independents (Fox Business Network, 9 p.m. ET, 6 p.m. PT, with re-airs three hours later) begins with the latest on the Ebola outbreak, including a timely reminder from The Federalist's Mollie Hemingway (who will be on to discuss) that we already have an Ebola czar; it's just that she's been even more forgotten than the millions in taxpayer money thrown at the Center for Disease Control's anti-pandemic efforts. Kennedy hits the streets of New York to find out what the heartland is afeard of with the virus, and Party Panelists Michael C. Moynihan, (Reason contributing editor) and Jimmy Failla (gruff ex-cabbie with a heart of gold) will react.
The Panel will also consider the strange Obama-phobic implosion of Democratic Senate candidate in Kentucky Alison Lundergan Grimes, and what that might say about the party's uneasy relationship with the president two weeks before Election Day; and assess the efficacy of Facebook founder Mark Zuckerberg's $25 million CDC donation to fight Ebola.
The three-way South Dakota Senate race is as tight as it is inscrutable, with former GOP Sen.-turned independent candidate Larry Pressler now saying that he'd be a "friend of Obama" if returned to office. He'll be on to discuss. Foreign policy analyst Michael Weiss will break down the latest battlefield confusion surrounding ISIS. And I will spin a yarn about the charming Briton who built his own damned road rather than wait for the government to fix a damaged one adjacent to his property.
Online-only aftershow begins at foxbusiness.com/independents just after 10. Follow The Independents on Facebook at facebook.com/IndependentsFBN, follow on Twitter @ independentsFBN, and click on this page for more video of past segments.