Ferguson October: Thousands Gather for Marches, Speeches, and Civil Disobedience Around St. Louis
At #MoralMonday and other "Ferguson October" events a diverse group is coming together to march, chant, sing, pray, and practice civil disobedience.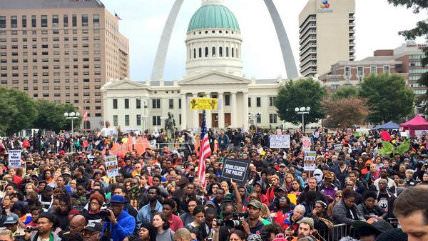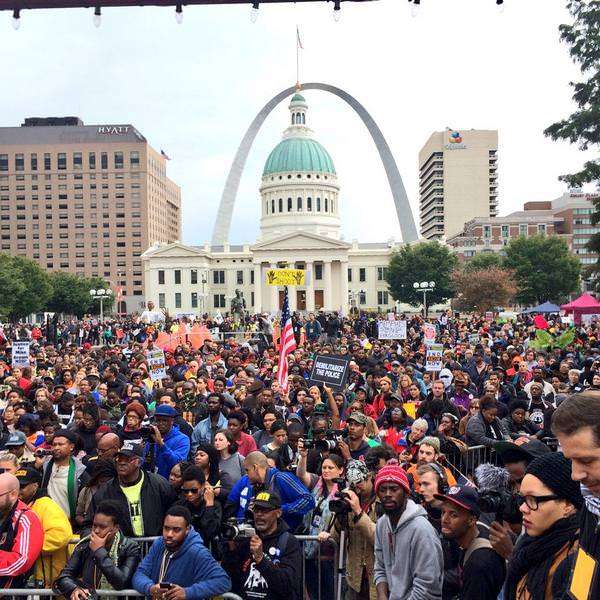 People from around the country are gathered in St. Louis for "Ferguson October", a weekend meant to reenergize attention around the August 9 shooting of 18-year-old Michael Brown by Ferguson cop Darren Wilson and the militarized-police response to subsequent protests and media attention. Since Brown was killed, two more young black men—Kajieme Powell, 25, in late August and Vonderrit Myers Jr., 18, last week—have been fatally shot by St. Louis-area police officers, further fueling this budding crucible of a new civil rights movement.
Today was designated #MoralMonday. After gathering at Ferguson's Wellspring Church for prayer and training, demonstrators marched to the Ferguson police station, where clergy stood toe-to-toe with cops in riot gear and offered to take their confessions. Some held up mirrors and suggested police "look at yourselves."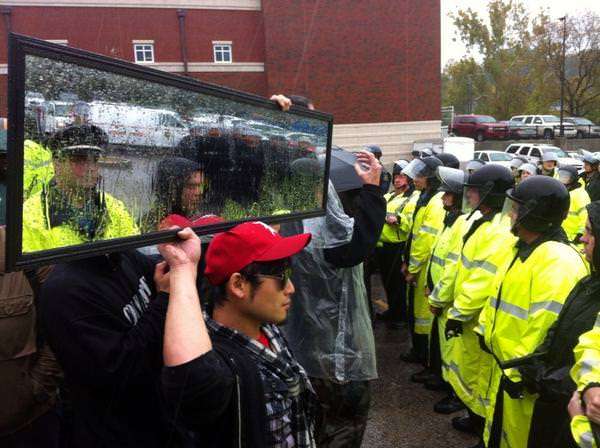 "This is what theology looks like," chanted clergy members. Others sang "We Shall Overcome." Several clergy members were arrested and taken away by police, as was Dr. Cornel West—who told a crowd on Sunday night that he had come to Ferguson "to go to jail", not give a speech.
"Power concedes nothing without a demand," states the #MoralMonday event page. "On Monday, we're taking our cue from the fearless activists in North Carolina who … kicked off the Moral Mondays movement for progressive change by engaging in civil disobedience every week, reminding all of us that these actions have been a part of every major movement for change."
Ferguson October events kicked off Friday with a march on the St. Louis District Attorney's office and a panel discussion on militarization and surveillance at the Dar Aljalal Islamic Center. On Saturday, a morning march ended at Kiener Plaza in downtown St. Louis, where activists spoke before a large and diverse crowd. That evening, protesters marched from the street where Brown was shot to the Ferguson police station, led by a car covered in memorial messages for Brown:
On Sunday, musicians played in Ferguson throughout the afternoon and 17 were arrested in a sit-in outside a St. Louis QuickTrip. That night brought "an evening of reflection and resistance" which included speeches from St. Louis rapper and activist Tef Poe, Central Reform Congregation Rabbi Susan Talve, and Christian author/publisher Rev. Jim Wallis, along with a keynote address from West.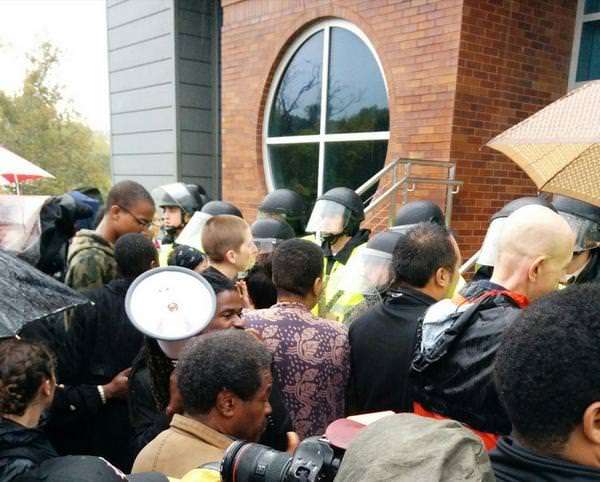 Los Angeles Times reporter Matt Pearce wrote of a palpable generational divide at Sunday night's activities, with a "raucous" crowd "heckling the president of the NAACP and successfully demanding that young demonstrators get a place on stage":
Moments earlier, the president of the National Assn. for the Advancement of Colored People, Cornell William Brooks, gave a fiery speech in which he said, "Oh say, can you see Ferguson, Mo., transformed?" Tepid applause greeted that line, and a man in the crowd began to shout: "Go to Canfield (he apartment complex near where Brown was shot) with that! We got revolutionaries out here [on the streets] starving!"
Poe told the crowd: "This ain't your grandparents' civil rights movement."
With all due respect, it actually sounds a lot like our parents' and grandparents' civil rights movement to me. We are seeing marches and chants, sit-ins and protest music. We are seeing people people of different races finally start paying attention to problems that have long been plaguing black communities. We are seeing the potential for new political coalitions. We are seeing justified anger, inspiring optimism and resilience, calls to pray, calls to arms, calls for policy reform. We are watching radicals, populists, wonks, artists, clergy, media, academics, and ordinary citizens sort out how and where they fit into the scheme of reform and resistance.