Arizona's Sheriff Joe Ordered, Again, to Improve His Abusive Jails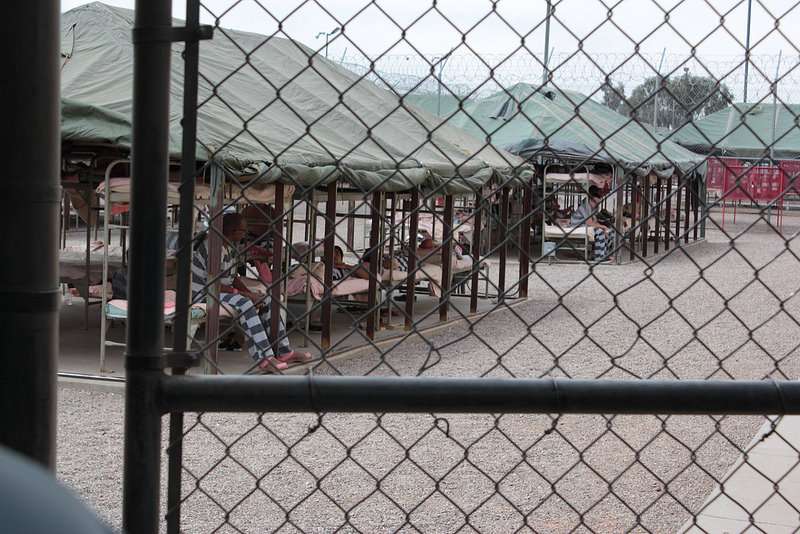 Maricopa County, Arizona's Sheriff Joe Arpaio loves grandstanding—and much of his routine is made for TV. His chain gangs wear black and white striped uniforms, just like in old movies, his prisoners are issued pink underwear "sure to offend the tender male ego" as his office boasts, and his world famous "tent city" jail is available for tours (adults only, no more than five per group, please). But his office has also been guilty of a litany of shenanigans, including stealing documents from a defense attorney, arresting critical journalists, spying on political opponents—and maintaining such lousy jail conditions that they violate inmates' rights.
In fact, U.S. District Judge Neil V. Wake has yet again, in an ongoing saga, told Sheriff Joe to offer decent medical care to the prisoners in his care.
Defendants now have at least one medical provider and additional mental health staff assigned to the Jail's intake center 24 hours a day, 7 days a week. But they have not shown they have resolved systemic deficiencies in providing pretrial detainees timely face-to-face assessment by medical and mental health providers for serious acute or chronic complex conditions.
Judge Wake noted that county officials have made some improvements since the last time he noted that they weren't complying with his order to improve conditions, but that "some of the new practices were begun only a few days before" they asked to be released from court superviion.
Note that the original judgment against the county dates to 1995, the jails lost their national accreditation because of conditions in 2008, it's now 2014, and Sheriff Joe and company are still dragging their heels over a court order to improve the treatment of inmates.
The ACLU of Arizona has more here.