Ukrainians in War-Torn East Topple Massive Lenin Statue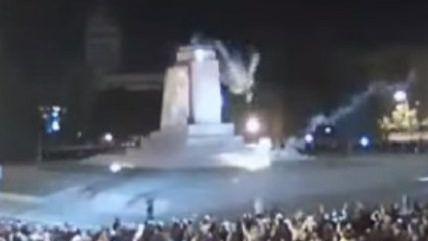 In the early hours of Sunday reportedly thousands of Ukrainian protesters in the nation's war-torn east toppled a 28-foot tall statue of Soviet Russian leader and icon Vladimir Lenin.
When the statue came down, Ukraine's interior minister wrote on Facebook, "Lenin? Let him fall. As long as this bloody communist idol does not take more victims with it when it goes." Lenin was responsible for mass killings of countless thousands in Ukraine and other countries in the Soviet sphere of influence.
As this Lenin monument fell, the regional governor signed a last minute order OKing its demolition. The BBC suggests this was "to save face" while The Independent suggests it was done as "a way to decriminalize the actions of the protesters."
"Some 168 Lenin monuments have been destroyed in Ukraine since the first was felled in the capital of Kiev last December" when a pro-democracy, pro-western began, notes Mashable, which also points out that some of Ukraine's aggressive nationalists participated in this weekend's toppling.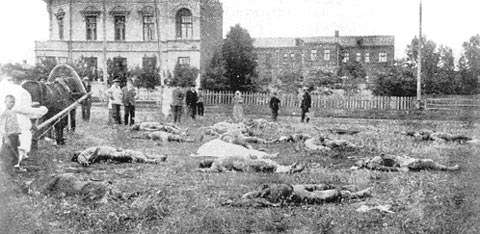 Elsewhere in Eastern Europe, people have been defacing old Soviet monuments to tick off Russia. One Polish town actually erected a new statue of the dictator; He's a garish neon green and is taking an undignified piss.
The latest statue was located in the central square of Kharkiv, Ukraine's second largest city. It borders Russia, and Russian President Vladimir Putin hopes will become part of a breakaway "New Russia." A poll conducted by a major Russian political opposition leader suggests that the vast majority of Kharkiv residents do not want to be more closely aligned with Russia, though.
Despite a ceasefire signed earlier this month between the Ukrainian government and the forces Putin supports (Russians, Chechens, other mercenaries, and some locals), the war looks to be ramping up again with high death tolls reported this weekend south of Kharkiv in the Donetsk region.
Watch the sucker fall: