MLB's New Metal Detectors Are Pointless Security Theatre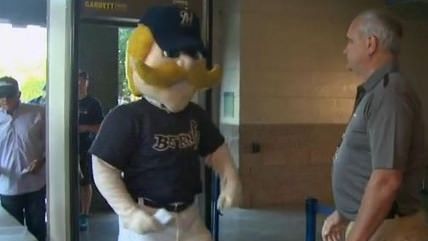 (Fox Sports Wisconsin's Twitter)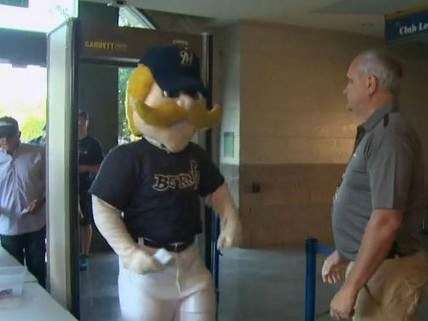 Last April, days after the Boston Marathon bombings, Boston Red Sox slugger and serial self-promoter David Ortiz took the mic at a solemn pre-game ceremony at Fenway Park. After thanking first responders and local politicians, he famously declared, "This is our f**king city and nobody gonna dictate our freedom."
The designated hitter known as Big Papi was celebrated for hitting just the right notes of anger and defiance in the wake of the horrific tragedy, but just one year later, Ortiz has already been proven wrong. Terrorists, even the lo-fi pressure cooker-tossing screwups in Boston, do indeed dictate our freedom, as evidenced by Major League Baseball's new policy of installing metal detectors at every stadium beginning next season.
A soft rollout has already begun, which I experienced last night at Yankee Stadium. I was 30 minutes late to the game, so there was no line to get in, but the security process was still confused and chaotic.
At the gate, a bored-looking attendant blocked the barcode reader I would have normally used to scan my ticket and go on my way. Instead, she checked the date on my ticket and waved me through. Although I knew the metal detectors were coming soon, I was startled to see one right in front of me, having attended a game just a few weeks ago when none had been installed.
I walked through the metal detector, setting off no alarms, when a stadium security guard yelled at me to empty my pockets of keys and electronics. I complied, dumping my pocket contents into a plastic bin, then walked through again still setting off no alarms. Then, I headed toward a third person, who finally scanned my ticket.
No biggie, right? It took an extra 60 seconds, but at least I know I'll be safe, right?
Whether it's reacting to the "shoe-bomber" by forcing everyone from the ages of 12 to 75 to remove their footwear while waddling through airport security or the inexplicable banning of liquids of more than 3 ounces, post-9/11 America is always fighting the last battle. But in the case of metal detectors at baseball stadiums, there isn't even a prior event to react to.
In the 13 years since 9/11 as well as the century preceding 2001, there has never been an attempted terrorist attack on an American sporting venue (even the 1996 Atlanta Olympics bombing was at a concert far from the stadiums). Still, likely as a reaction to the Boston Marathon bombings which took place on a public street, baseball fans will be subject to pointless security theatre that may end up placing them in greater danger.
VICE Sports quotes University of Alabama economist Walter Enders, who co-authored a study on the effectiveness of metal detectors, as saying, "You're trying to get in the door, there's 20,000 people standing around outside. I could do a lot of damage there, just as easily as I could if I brought the thing inside. Maybe even more."
Such an attack, like all terrorist attacks, remains highly unlikely. What is certain is that the new screenings will cause logjams of tens of thousands of fans outside all MLB parks next year and that once added security measures are taken, no matter how intrusive and pointless, we just get used to them and they never go away.
The new sports security theater reminds me of a hilarious, politically incorrect and very NSFW rant by early YouTube star, the late Mike Caracciolo AKA The Kid From Brooklyn, about the irony of metal detectors at Yankee Stadium on Bat Day:
(Reminder: NSFW)