Cops Tackle 70-Pound High Schooler…And Guess What Her 'Crime' Was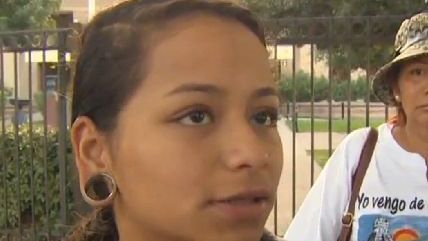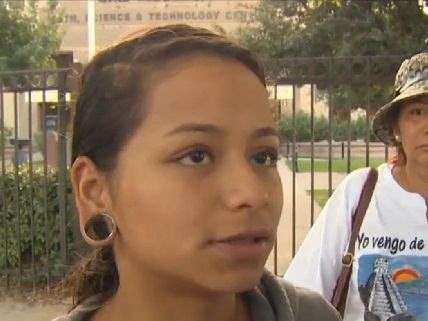 Answer: She was using a cell phone when she wasn't supposed to.
According to KHOU, 70-pound high school sophomore Ixel Perez was kicked out of her Houston, Texas, classroom for talking on her phone. Perez claims she was concerned for her mother's health and was trying to talk to her using the phone. Next, an assistant principal tried to confiscate the phone; when Perez refused, the adminstrator called the police.
What happened next was recorded by another student using a cell phone. The cops wrestled Perez to the ground and pinned her. One of the officers put his knee on her head and held her against the hard floor as she screamed.
Now Perez wants an apology—and her phone back—according to KHOU:
Perez was detained. Her mom says she was turned away when she rushed to the school to make sure her daughter was OK. And as of Wednesday morning Perez said school officials had not returned her cell phone, in lieu of a $15 fee she would need to pay.

"We all know it was wrong," said Perez' brother Chris Cardenas. "It doesn't take three cops to take down one teenage girl, especially a 70-pound teenage girl!"

A spokesperson for HISD would only respond with a brief written statement:

"The safety of our students at Sam Houston High School and of all our schools is always our absolute top priority. The HISD police department and the school's administration are continuing their investigations of what led to the detainment of a female student yesterday. " Meanwhile Perez and her family says she will not return to Sam Houston High School. They will attempt to get her transferred to another school.
It sounds like Perez behaved badly: It's not okay to talk on a phone during class, and if she was truly concerned about her mother she should have asked permission to leave the classroom and make a call from the office.
But that does not excuse the administrator who called the cops for no good reason, nor does it justify how the cops handled the situation. Treating students who break school rules like violent criminals is unacceptable and outrageous.
Hat tip: Eric Owens / The Daily Caller