Emails Reveal Lois Lerner Thought It Was "Dangerous" for a Top IRS Staffer to Talk to the Treasury Inspector General Alone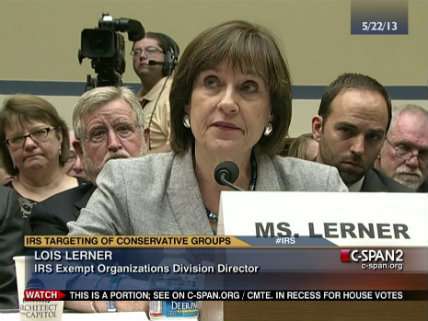 When a member of The Washington Post editorial board emailed an Internal Revenue Service (IRS) communications staffer questions about targeting of conservative non-profits in May, 2013, the proposed response included the statement that "organizations from all parts of the political spectrum received the same, evenhanded treatment." But according to a trove of recently released IRS emails, first reported by USA Today, that response was nixed by Lois Lerner, the head of the agency's tax-exempt unit and the central figure in an ongoing investigation regarding the agency's targeting of conservative non-profits, who responded, "It sounds like we track it, and we don't."
The agency may not have tracked the political leanings of the groups being targeted in real time. But a year before, an IRS staffer sent an email to Lerner tallying the political lean of the groups involved in cases under investigation. Of the 199 501(c)(4) cases—involving groups which face no restrictions on mission-related lobbying—an estimated 75 percent were conservative, according to an internal IRS email published by Judicial Watch, which has been seeking the public release of emails related to IRS targeting. Less than five percent appeared to be liberal. More than half of the 84 cases investigating 501(c)(3) organizations, which are more restricted in their activities, were conservative.
Lerner also admitted that the agency's actions involving scrutiny of conservative non-profits could have appeared to be politically motivated, although she denies that they were, and insists that the mistakes were due to poor management. In a January 2013 email noted by USA Today, Lerner writes that "front line staff people" handling the investigations may have used "less than stellar judgment." And she says that may be her fault. "I am willing to take the blame for not having provided sufficient direction initially, which may have resulted in front line staff doing things that appeared to be politically motivated, but I am not on board that anything that occurred here shows that the IRS was politically motivated in the actions taken."
In separate email thread published by Judicial Watch, Lerner seems wary of allowing another staffer to provide information related to the investigation without her presence.
On the morning of June 28, 2012, Holly Paz, then the head of the IRS Office of Rulings and Agreements, who last summer was placed on administrative leave, sent brief message to Lerner. "Now TIGTA [the Treasury Inspector General's office] wants to talk to me. I am guessing they read this morning's paper," she said in an email. The Wall Street Journal had run an article that day about the IRS scrutinizing the tax status of Karl Rove's Crossroads GPS group.
Lerner was concerned. She wanted to be there when Paz taked with the IG. "Not alone. Wait til I am there," she wrote back less than 20 minutes later.
Paz responded four minutes later. "Sorry. Too late. He already called me." The call, Paz explained, was not about the Journal article, but about "trying to get a better understanding of the scope of the Camp request"—a letter that had recently been sent from House Ways and Means Committee Chair Dave Camp (R-MI) with questions regarding IRS targeting.
Lerner's response: "Just as dangerous. I'll talk to you soon. Be there in half an hour."
The obvious question this exchange raises is why, exactly, she was so concerned. There's no further record of the meeting, nor any indication of what they might have talked about. But it's clear enough that Lerner thought there was a reason to worry about what the IG might hear.