Feds' Plot to Stop Small-Town Cookies Backfires Into International Demand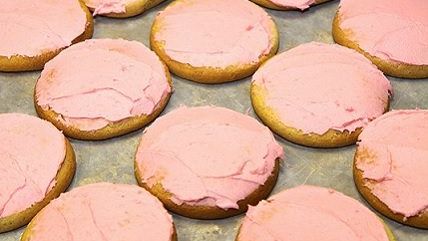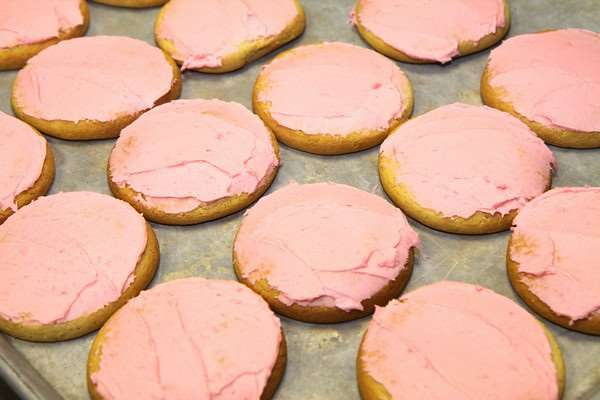 Apparently, the Elyria, Ohio, school district made a darn good cookie. So good, these pink-frosted confections were declared Cleveland's "Best Cafeteria Cookie" a few years ago. This back-to-school season, though, federal food police decided to put an end to the award-winning treat. Now, the plan to keep people away from their sweets seems to have backfired: People from around the U.S. (and even Canada!) are demanding the cookie.
The bad news, which The Chronicle-Telegram broke last week:
[A federal] edict calling for school districts to provide more fruits and vegetables, lean proteins and whole grains to students along with fewer calories, fat and cholesterol has resulted in the loss of the pink cookie.

"We can't have them in the cafeteria for sale, period," said Scott Teaman, food services director with Sodexo Inc., the district's contracted food provider. "The guidelines for snacks are very strict, and there is no wiggle room."

It's not surprising the pink cookie does not meet the revamped food guidelines. Much about it hasn't changed in nearly four decades — that's how long the pink cookie was on the menu.
A local ABC affiliate explains that "the cookie, which contains real butter, exceeded the number of calories allowed per a la carte item, according to the National School Lunch Program."
The bakers refused to change the recipe, and even Elyria's mayor stood by them:
You can't change the recipe of the pink cookie. It's like eating diet potato chips. It's not right. … I grew up eating them. They are a comfort food. It's one of those things that's special to our community.
If the feds thought that by banning the pink cookie in school they'd prevent people from gobbling them down, they were wrong. The bakers are still permitted to take special orders, and the chorus of dismay at demise of "the perfect cookie" has grown from local "cult followers" to nationwide curious sweet-tooths, and demand has skyrocketed.
"The [school] district has received at least 100 calls and emails from Illinois, Hawaii, Minnesota, New York, Montana and Canada from people who want to taste or have something to say about" the cookie, according to yesterday's Telegram.
The district is now trying to figure out the logistics of shipping the cookies around the country, but won't begin baking until after Labor Day. They're also thinking about making the cookie smaller, so that it contains less calories, and can be reintroduced at the school.
In case you want to make your own cookies in defiance of federal nannying, or you just want to know if it lives up to the hype, here's the recipe.