Tonight on The Independents: After the Beheading, Ferguson Stupidities, United States of Welfare, Charlamagne Tha God, TV's Andy Levy, Julie Borowski, and a Celebration of Mo'ne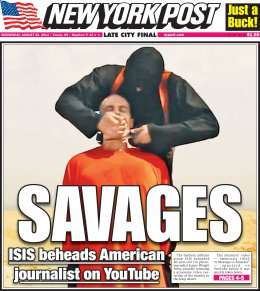 Tonight's episode of The Independents (Fox Business Network, 9 p.m. ET, 6 p.m. PT, with re-airs three hours later) picks up where last night's left off: With dueling storylines across multiple segments on the horrific beheading of journalist James Foley by a British-accented agent of ISIL, plus the continuing fallout and teachable moments from the situation in Ferguson, Missouri.
Starting with the grisly business and how President Barack Obama is and should be responding to it is former Lt. Col. Ralph Peters, who will likely have a more bombing-centric approach than the co-hosts (though one never knows). Later, a Red Meat Wednesday Party Panel of TV's Andy Levy and beloved Internet libertarian Julie Borowski will weigh in on the do's and don'ts (legally and personally) of publishing/broadcasting/re-tweeting images and videos from the Foley tape.
Levy & Borowski will also get into the various stupidities surrounding the Ferguson fiasco, whether it's Capt. Ron Johnson's alleged gang signage, Gov. Jay Nixon's call for a "vigorous prosecution" (as opposed to a vigorous investigation to see whether a prosecution is warranted), a looter's reported comment that "I'm proud of us. We deserve this." Also coming on to talk about the various aspects of Ferguson is hip-hop DJ Charlamagne tha God, who I predict will not exactly agree with Kmele Foster about the situation, though again, life is full of surprises. The co-hosts will talk about new numbers showing that 109 million Americans are on welfare, as a sort of preview of our Friday show "The United States of Welfare." And proving that not everything in life is inherently terrible, we shall celebrate the awesomeness that is 13-year-old pitching sensation Mo'ne Davis.
Follow The Independents on Facebook at facebook.com/IndependentsFBN, follow on Twitter @ independentsFBN, and click on this page for more video of past segments.