Georgia County Won't Pay Medical Bills for Toddler Critically Injured by Flash Bang Grenade During Drug Raid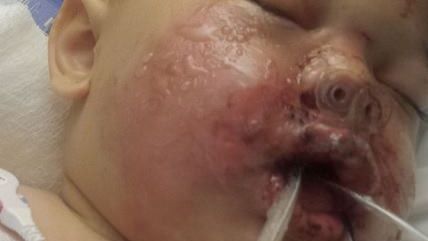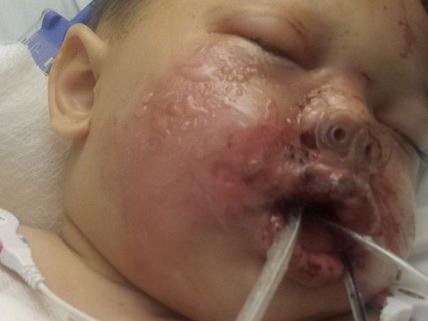 Politicians like Rep. Lacy Clay (D-Mo.) who have supported the militarization of police but have found it politically unfeasible to do so now have been looking for a way to square their support with a little bit of politically-motivated outrage. Clay, whose district includes Ferguson, the town that helped catapult the issue of police militarization into the national news cycle, defended his vote, saying he only disapproved of the use of such police forces for crowd control in his district.
But while their presence at protests may be the most prominent manifestation of militarized police, the problem is endemic. Perhaps Clay and the rest of them ought to subscribe to Reason to inform themselves better.
Earlier this year, we brought you the story of Baby Bounkham, who was severely injured after a Georgia SWAT team threw a flashbang grenade that landed inside Bounkham's crib—cops were serving a drug warrant based on information from a confidential informant about a small amount of meth. The raid yielded no drugs and no suspect. Cops insisted they did what they could to prepare and didn't know there were children in the house, two seemingly contradictory contentions. The sad case illustrates the interplay between the war on drugs, militarized police, and police brutality.
The story didn't elicit national outrage, and a friend of the family raised just $38,000 in two months to cover Boumkham's medical bills. They're going to need more than that, as the county government has ruled it would be a "violation of the law" for it to pick up the medical costs their officers created the necessity for.
WSB-TV reports:
Habersham County's attorney provided the following statement, saying: "The question before the board was whether it is legally permitted to pay these expenses. After consideration of this question following advice of counsel, the board of commissioners has concluded that it would be in violation of the law for it to do so."

The attorney for Boo Boo's family insists that is not good enough.
Those not discussing serious changes in the laws that protect cops and create situations like this, where a government can say it's against the law for it to pay the medical expenses created by its officers violent actions, ought to be ignored as the noise over the Michael Brown shooting continues. Police violence is not just a problem in Ferguson, not just a problem during protests, not just a problem for young black men, but a problem with the laws cops enforce, the tools they're given to do so, the erosion of our rights in the name of public safety, and the protections cops enjoy when they're wrong
h/t pdogg