A 'Voter Redistricting Czar'? How About Not.
A California Democrat is cooking up something very un-democratic.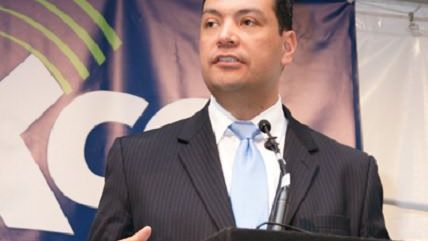 SACRAMENTO — Two prominent California politicians are using their current political powers to advance political changes — in one case a bill, in another an initiative — that would give them vast new powers if they win statewide office in November. Critics find it tacky at best.
In one case, Sen. Alex Padilla, the Los Angeles Democrat who is running for secretary of state, is the principal coauthor on a bill (AB 280) that would require any local redistricting plans to be approved by the secretary of state. It would provide more than $2 million annually to that office.
In the other case, state Insurance Commissioner Dave Jones, who is running for a second term, has been a prime supporter of a trial-attorney-backed initiative (Proposition 45) that would allow the insurance commissioner to control health-insurance rates, turning him into the de facto "insurance czar." His support of the initiative is so deep that legislators have questioned him about it at a Capitol hearing.
The Padilla-backed bill is part of a package of bills by California's legislative Latino Caucus to address a U.S. Supreme Court decision last year (Shelby v. Holder) that removes the requirement that federal officials "pre-clear" any changes to certain state and local voting laws. That requirement was part of the Voting Rights Act of 1965, which applied mostly to Southern states, but also to a handful of California counties that had been accused of discrimination.
One Padilla-backed bill would mandate outside legal review of any California localities that create district-based elections to make sure that the new districts are not discriminating against minority voters. And now this one would restore the type of "pre-clearance" requirements stripped by the Supreme Court — and place it in the hands of the secretary of state rather than the attorney general. He would get to approve or deny the new local districts.
If he beats Republican Pete Peterson for the state's top election office, this could give Padilla "the power to be the redistricting czar in California," said Alan Clayton, a longtime redistricting expert who has worked to expand Latino representation. (AB 280 is on the suspense file, but could come back before the end of session.)
Regarding the insurance commissioner: If Proposition 45 passes, it would pay consumer/legal groups known as "intervenors" large legal fees to challenge rate adjustments proposed by insurers, in an administrative process that can take months or years to resolve. The result, according to a report produced by opponents of the proposition, "would severely disrupt Covered California's ability to manage the newly reformed marketplace."
That initiative is pitting trial-lawyer-backed Democrats such as Jones against Democrats who are big backers of Obamacare. Certainly, the insurance commissioner is free to back whatever initiative he wants to back, but the commissioner recently released an official report pointing to large hikes in premiums after the state's insurance exchange went into effect last year.
The Los Angeles Times referred to the report as "the first shot … in (Jones') campaign for more authority over health insurance premiums …" given that Jones argues that the only thing keeping future rate hikes in check is the fear of Proposition 45's passage.
But some state legislators believe it's wrong for a top state official to release an official taxpayer-funded study that helps a political initiative that would give that official enormous new powers. In testimony at a joint legislative hearing in July, Jones denied that he has used any department resources to boost the campaign.
Proposition 45 opponents point to a public-records act request that shows emails in which department employees seem to provide advice to its drafters on the language of the proposed initiative. I called Jones' office for a comment, and they sent me to a pro-Proposition 45 campaign number, which seems oddly appropriate. (No one there returned my call.)
I'm not naïve enough to think that politicians aren't going to play politics with their office. But voters should at least be aware of how shamefully transparent — tacky, if you will — they can be at times.