Hamas Ends Ceasefire. Now What?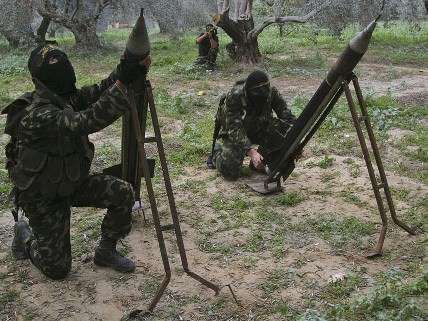 Hold off on writing your post-mortems for the latest Israel/Hamas war. The ceasefire is officially over after Hamas rockets landed in Israel just before the 72-hour truce expired, followed by dozens of Israeli airstrikes in Gaza.
As the conflict slogs into its second month, Israel appears content to meet fire with fire and engage in periodic mini-wars sometimes referred to as "mowing the grass." In these brief but devastating battles, Israel never achieves a clear-cut military victory, but the ability of Hamas to strike Israel is greatly diminished and (they hope) the civilian population of Gaza grows weary of bearing the brunt of the reprisals for Hamas' armed resistance.
As reported by Haaretz, Hamas spokesman Sami Abu Zuhri explained their reasoning behind resuming hostilities:
"We have not yet received a document with the Israeli answer to our demands. Just yesterday, we received a memorandum of understanding from the Egyptian side, and this document did not respond to any of our requests—the airport, the sea port, the buffer zone, the expansion of the fishing area, etc. There was also no explicit mention of the lifting of the siege….We think Israel is dragging its feet. They did not respond to our demands and has not done a thing to show that there is a reason to extend the cease-fire. Now all options are open….However, the door to continued conversations is not closed. The decision to comply with our requirements is in Israeli hands."
With this statement, Hamas essentially admits it has failed to achieve any of its goals. There have been no concessions by Egypt to open it's border with Gaza, no exchanges of prisoners with Israel, no major Israeli targets were struck by its rockets, and calls for an uprising in the West Bank went unmet.
If digging deep for evidence of even a Pyrrhic victory, Hamas might be proud that their crude rockets reached deeper into Israel than ever before, halting international flights at Ben-Gurion International Airport in Tel Aviv (for two days) and making air raid sirens and mad dashes to the bomb shelter a daily occurrence for millions of Israelis. But more signficantly, more than 1,600 Gazans are dead, Gaza's infrastructure is devastated, Egypt's military government continues to view Hamas as an enemy, and the Palestinian Authority, not Hamas, is far more likely to be taking the lead in any future long-term negotiations with Israel.
Hussein Ibish writes in The Atlantic:
Hamas also faces the strong possibility of a return to the status quo ante, but perhaps with an even harsher blockade and strangulation by the Israelis. The political perils are enormous. The Gaza public, which may have rallied to Hamas's cause during the actual fighting, could well start asking pointed questions about what so much devastation achieved. At present, Hamas has no answer. If Hamas negotiators do not get a tangible benefit either for the group itself or for the people of Gaza from the Cairo negotiations, the political damage could be considerable. From Hamas's perspective, that could be mitigated if the PA also emerges from the talks discredited and marginalized. All of this will depend on the diplomatic and political fallout that develops, mainly in Cairo, in the coming weeks.

Hamas remains committed to armed struggle against Israel as its primary tactic. Right now, it almost certainly cannot sustain the public backlash in Gaza and the rest of the Arab world that would result if it resumes full-fledged hostilities now that it has ended the ceasefire. But, equally, it may not be able to live with a reality in which it paid such a high price for no achievement whatsoever. Given that nothing fundamental has changed in the structural relationship between Hamas and Israel, or in Hamas's ideology and strategy, another round of violence with Israel ultimately may be inevitable.
Foreign Policy reports that the UK, France and Germany have drafted a plan called "Gaza: Supporting a Sustainable Ceasefire," which would primarily rely on U.N. peacekeepers to "cover military and security aspects, such as the dismantling of tunnels between Gaza and Israel, and the lifting of restrictions on movement and access." The document states that the mission "could have a role in monitoring imports of construction and dual use materials allowed in the Gaza Strip, and the re-introduction of the Palestinian Authority."
It is unclear how U.N. peacekeepers working alongside the Palestinian Authority, which lost a brutal civil war with Hamas over control of Gaza in 2007, would be able to "help to prevent a rearming of militant groups in Gaza and military violations, and provide for an effective dismantling of tunnels between Gaza and Israel," considering the U.N. generally sits on the sidelines when bullets start to fly. What is clear is that Hamas is running low on allies, and appears to hope that some more rocket fire will get them the concessions from Egypt and Israel they have failed to get so far.