Nevada Family Loses $1.2 Million Thanks to Obamacare Coverage Typo
This slight error has produced a fiasco for the family.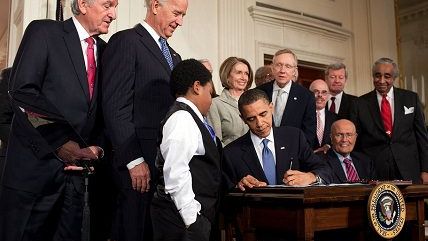 (Pete Souza / White House)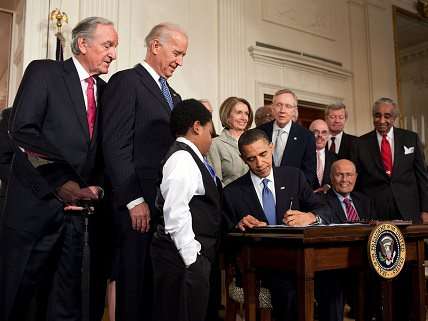 Las Vegas woman Amber Smith has accrued $1.2 million in medical expenses because her health plan—purchased through Nevada's Obamacare insurance exchange—recorded her birth date incorrectly. This slight error has produced a fiasco for the family, but they may have to sue the exchange before they get the coverage they paid for.
Smith, her husband Kynell, and their five children have racked up more than a million dollars in bills after Smith's premature baby delivery. Their Anthem Blue Cross Insurance was supposed to cover it—they have made their monthly premium payments of $1,300—but the company couldn't process her claims because her birth date was recorded as 1978 instead of 1979.
The Las-Vegas Review Journal has more:
The Smiths are the latest in a line of consumers reporting technical problems with Nevada Health Link, the Xerox-built marketplace through which Nevadans can buy subsidized health insurance to comply with the Affordable Care Act. Las Vegan Larry Basich ran up more than $400,000 in uncovered bills in February after Xerox's system couldn't figure out which insurer he signed up with. Basich got coverage in March, after a flurry of media attention.

The board of the state exchange voted in May to drop Xerox and its system, and borrow sign-up functions of the federal Healthcare.gov when open enrollment begins Nov. 15.

Spokesman CJ Bawden said the exchange is "fully aware" of the Smiths' case.

"We're working very quickly to solve it," he said. "There are multiple issues incorporated in this case, and it's something that just takes a bit of time to work through. But we're trying to solve it as quickly as possible so they will have access to their health insurance, and will be able to go back and make sure charges accrued over this time period are taken care of by their insurance."

Anthem spokeswoman Joyzelle Davis said the case "illustrates the frustrations we and the health exchange have had in dealing with Xerox."

Xerox built its software so that changes such as birth dates have to be handled by the exchange system rather than by the carrier, Davis said.
The Smiths have contacted a lawyer and may be joining a class action lawsuit against Nevada Health Link. In the meantime, they are still paying.
"All I know is, I am sending checks and they are cashing them," Smith said.