'An Even Bigger Bite': Obama Announces New Sanctions on Russia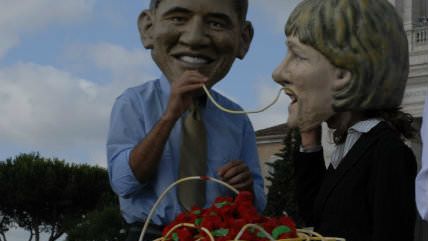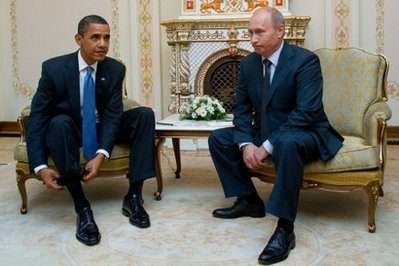 President Barack Obama just announced a new round of sanctions against Russia, assuring that they will take "an even bigger bite" out of Russia's economy than the previous ones have.
"Today Russia is once again isolating itself from the international community, setting back decades of genuine progress," the president said. "It does not have to be this way. This a choice Russia and President Putin has made," in reference to the Russian government's ongoing support for so-called separatist militias that have for months been destabilizing Ukraine.
The Treasury Department issued a press release explaining that it has "imposed sanctions that prohibit U.S. persons from providing new financing to three major Russian financial institutions, limiting their access to U.S. capital markets. Treasury today has also designated one Russian state-owned defense technology firm pursuant to Executive Order (E.O.) 13661. These measures coincide with actions taken to suspend U.S. export credit and development finance to Russia."
So far, as is apparent, U.S. sanctions have done little if anything to stop Putin's incursion in Ukraine.
The Associated Press highlights the fact that today's announcement includes "particularly significant" action from the European Union, "Given that the continent has a far stronger economic relationship with Russia than the U.S. does.":
Until this week, the EU sanctions had lagged behind American penalties, in part because of leaders' concerns about a negative impact on their own economies. …

The new European penalties include an arms embargo on Moscow and a ban on the unapproved sale to the Russians of technology that has dual military and civilian uses or is particularly sensitive, such as advanced equipment used in deep-sea and Arctic oil drilling.

To restrict Russia's access to Europe's money markets, EU citizens and banks will be barred from purchasing certain bonds or stocks issued by state-owned Russian banks, according to EU officials.
Also, Reuters just published a special report that indicates some of the separatists' firepower has come directly from Russian government storage:
On the last day of May, a surface-to-air rocket was signed out of a military base near Moscow where it had been stored for more than 20 years.

According to the ornate Cyrillic handwriting in the weapon's Russian Defence Ministry logbook, seen by Reuters, the portable rocket, for use with an Igla rocket launcher, was destined for a base in Rostov, some 50 km (31 miles) from the Ukrainian border. In that area, say U.S. officials, lies a camp for training Ukrainian separatist fighters.

Three weeks later the rocket and its logbook turned up in eastern Ukraine, where government troops seized them from pro-Russian separatists.

The logbook, which is more than 20 pages long, records that rocket 03181 entered service on May 21, 1993, and had regular tests as recently as 2005 to make sure it was in fighting form. The seal of the Russian Defence Ministry has been stamped over the signature sending the weapon to Rostov.
For more Reason coverage of the Ukraine-Russia crisis, click here.