A Luxury Manhattan Building To Include a Separate 'Poor Door' for Less Affluent Tenants. Is It 'Segregation'?
New York's clownish political leaders are in a tizzy.
Developer Extell moved ahead with plans last week to build a luxury tower on Manhattan's Upper West Side that will offer no river views and a separate entrance for the 55 less-affluent households that get to live in the building at way below-market prices because they won an affordable housing lottery.
New York City's political class is in a tizzy. Last week, Mayor Bill de Blasio (D-New York) pledged to change the zoning code to outlaw "poor doors" (as the tabloids have dubbed the separate entrance). New York City Public Advocate Letitia James (D) held a press conference on Friday calling the arrangement "segregation," protesting that "this administration was elected into office based on equality, one rule of law, one New York City."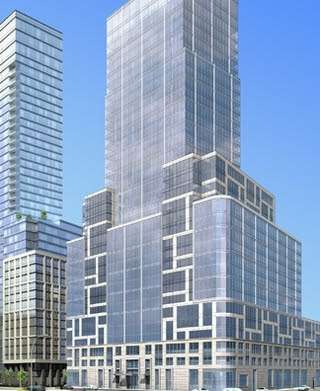 Among Gotham's clownish political leaders, apparently it qualifies as "segregation" if rich people pay more to live amongst each other, a totally new and unheard of phenomenon.
Council Member Mark Levine (D-7th District) recently introduced a law that would allow below-market tenants to file a discrimination lawsuit or a complaint with the city's Commission on Human Rights if denied all the amenities available to market rate tenants. Next City reports that Levine's bill came after a building in his district denied rent-controlled tenants the right to use an onsite gym. "It just so happens that the rent-regulated tenants being blocked from the gym happen to be older and more often people of color than the market-rate tenants," said Levine, "which is the same as the tenants who would be affected by the 'poor door.'"
The rent-regulated tenants just happen to be older and of color; they weren't denied the right to use the gym because they're older and of color, which is precisely why these policies don't qualify as "segregation." To call them that devalues the word.
It's depressing that the biggest story of the year in local housing policy is that a few dozen families living in a luxury building at taxpayer expense have to walk through a separate entrance. Outlawing separate amenities for below-market tenants will only mean that the government will have to pony up even more subsidies, such as real estate tax abatements, tax free financing, and Low Income Housing Tax Credits, to entice Gotham's crony capitalist affordable housing developers to put up new buildings.
Councilwoman Helen Rosenthal (D-6th District) called the poor door an "absolute disgrace." You know what's an absolute disgrace? The deal Rosenthal brokered recently to give affordable housing subsidies to families earning nearly $200K, which I wrote about earlier this month.