Octogenarian Couple Claims Violent Home Invasion by Cleveland Clinic Cops, Appeals Court Rules Lawsuit Can Move Forward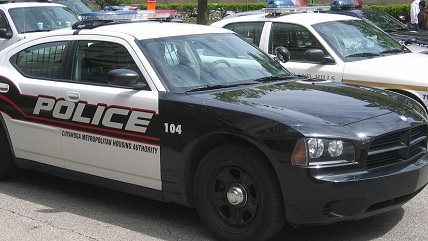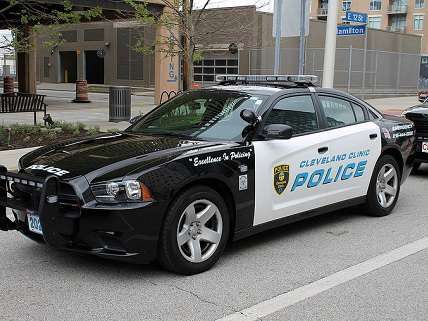 A couple in their eighties in Cleveland is suing the police department of Cleveland Clinic over a 2011 incident where cops followed their 38-year-old son home over minor traffic violations allegedly without turning their sirens or lights on.
A federal judge dismissed the couple's lawsuit in January 2013, but an appeals court ruled on Monday that the couple's claims of illegal home entry and intentional infliction of emotional distress could move forward even as it sided with the federal judge in dismissing the son's and the couple's assault claims because of limits placed by the 1994 Supreme Court decision Heck v. Humphrey.
Here is the appeals court's telling of the couple's claims:
Plaintiffs allege that Aaron Hayward was driving home from his parents' store early in the morning, around 4:00 a.m. on January 23, 2011, when a CCPD SUV pulled up behind him and followed him until he turned into his driveway and parked his car. Up to this point, the officer's marked SUV neither sounded a siren nor flashed its lights. The officer yelled, "Hey you, come over here, boy," at Aaron as he exited his car and entered the home that he shared with his parents, Annie and Essex Hayward. (R. 1, Compl., at 12.)1 Defendants admit that up to the time Aaron entered the home, it was not communicated to Aaron that he was under arrest.

When Aaron ignored the officer's order, the officer radioed for additional help, claiming that he was attempting to make a traffic stop, but did not indicate that there was any danger to himself or any individuals inside the home. Approximately ten to fifteen minutes later, five additional officers arrived at the scene. They began pounding on the Haywards' front door, demanding that they "open the fucking door." (R. 30, Second Am. Compl., at 477.) Plaintiffs Annie and Essex Hayward awoke to the sounds of the pounding on the door. Once downstairs, they saw blue and red flashing lights and several men who appeared to be police officers. Plaintiff Essex Hayward opened the main, wooden door to their home and Defendants continued trying to force their way through the outer security door. At that time, realizing that the men were Cleveland Clinic security officers, Essex Hayward mentioned calling the actual Cleveland police to their home. At some point during this encounter, Plaintiffs realized that the officers were wearing police badges depicting the Ohio state seal.

Plaintiffs shut the main, wooden door once again and Defendants forced open the outer security door by breaking its glass. At this time, the outer security door now ajar, Aaron used his foot and body to prevent the officers from breaking down the main door. So the officers became more aggressive in attempting to enter the home. They used the butt of a shotgun to shatter the main door's small window. Once that occurred, Annie and Essex called 911. One of the officers then stuck a taser through the shattered window and blindly fired into Plaintiffs' home. Eventually, Defendants struck Aaron with taser probes, which he was able to remove from his body. The officer blindly deployed the taser for a second time, striking Aaron again and this time causing him to fall to the ground. Once Aaron was no longer pressed up against the wooden door, Defendants broke through the main door and poured into Plaintiffs' home. They tased Aaron again to gain control, as he continued struggling to defend and protect himself and his parents. Defendants then dragged Aaron outside to the driveway, where they allegedly beat him with their batons, kicked him in the head and other parts of his body, stunned him with a taser, and called him a "black nigger" before they handcuffed and officially arrested him. (Id. at 469.) Plaintiffs claim that Aaron was tased altogether in excess of thirty seconds.

At this point, the officers demanded identification from Annie and Essex. After Essex questioned their demand, at least one of the officers threatened to punch Annie and Essex in the face, break their teeth, and take them to jail if they failed to comply with the order and present identification.
The appeals court did find that the couple had pleaded enough facts to make a plausible claim that the police's action "was so extreme and outrageous as to go beyond all possible bounds of decency and was such that it can be considered as utterly intolerable in a civilized community."
The Cleveland Clinic Police Department is apparently the third largest police force in Northeast Ohio and, according to the department, each year getting more than 100,000 calls, making 230 arrests, and more than 180 traffic stops.