Yelp Complains About Google Results For Restaurants Years After Demanding They Get Paid For Content Showing Up in Searches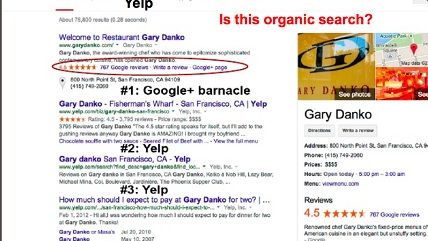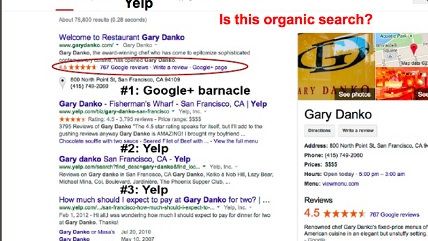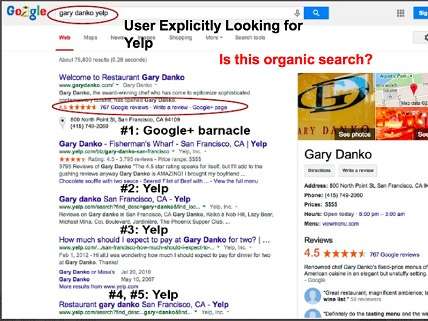 The CEO of Yelp, Jeremy Stoppelman, has gone to regulators in Europe over Google, filing a complaint against the way the search engine organizes results of searches for restaurants and restaurant reviews.
Google is working on an anti-trust settlement with European Union regulators about the way it presents results and claims that it prioritizes Google-branded results first. As a final agreement comes close to fruition, critics in Europe are getting louder. Now Yelp's CEO has joined the chorus. As TechCrunch reported:
Documents leaked to TechCrunch from inside Yelp allege that Google is manipulating its search results to favor Google+ content over Yelp content. The materials accuse Google of blatantly highlighting its own products in searches made in the US but not in Europe in order to avoid angering EU regulators who are reviewing Google antitrust complaints.

The source tells me these screenshots and study are what's being passed around internally at Yelp to demonstrate that Google's tactics are unfair. Yelp recently joined a formal complaint about the leniency of an EU antitrust settlement with Google, the New York Times reported today, and my source says these documents helped inspired this action.
Google and Yelp have some history. In 2009 Google tried to buy the company for more than half a billion dollars but Yelp ultimately walked away from the deal.
SlashGear explained more of their history during a 2011 dust-up:
According to Stoppelman's testimony [in a congressional hearing], after a license to use Yelp's review content in its results expired in 2007, Google first sought its own user reviews and then, in 2010, began automatically including content from Yelp without a new license agreement. When Yelp objected, Stoppelman claims, Google said it would only stop if the review site agreed to be removed from the overall search index.
So it sounds like initially Yelp wanted to get paid by Google for being included in the search engine's results. Google tried to buy Yelp in their attempts to expand into providing local content for users (Google eventually bought Zagat). Now that Google's local search results have evolved to provide a more comprehensive search result about local places, one that incorporates Google and other content to provide.
\As Google Chairman Eric Schmidt explained in 2011 at the same hearing where Stoppleman complained about Yelp's Google placement, "the cost of going elsewhere is zero, and users can and do use other sources to find the information they want." It's disheartening, if not surprising, that Yelp's CEO would turn to government to force a business that's become a competitor to act in a way advantageous to his own company at their expense.