Lois Lerner Warned IRS Employees to "be cautious about what we say in emails"
Lois Lerner, the former Internal Revenue Service (IRS) official who cannot provide email records to congressional investigators because of a computer crash shortly after a congressional committee began its probe, warned other IRS employees to be "cautious about what we say in emails" that could be released to Congress.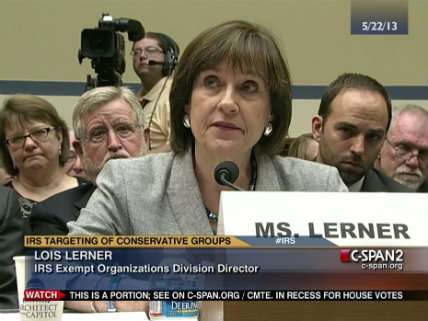 That's according to an email exchange between Lerner, the former IRS director of tax exempt organizations, and another IRS employee. The exchange, which occurred in April, 2013, a little less than two years after her own hard drive crashed, was made public by the House Oversight Committee as part of its ongoing investigation into conservative non-profit organizations.
The emails show that Lerner emailed a colleague to ask about the storage and retention of OCS conversations—messages sent using Microsoft's Office Communications Server. In the exchange, Lerner expresses concern about possible congressional requests for IRS communications.
"I had a question today about OCS," Lerner wrote. "I was cautioning folks about email and how we have had several occasions where Congress has asked for emails and there has been an electronic search for responsive emails—so we need to be cautious about what we say in emails. Someone asked if OCS conversations were also searchable—I don't know, but told them I would get back to them. Do you know?"
Hooke writes back that OCS messages are not "set to automatically save as the standard," but that the functionality to do so also exists. "My general recommendation is to treat the conversation as if it could/is being saved somewhere," Hooke writes.
"Perfect," Lerner writes in response.
It's hard to look at Lerner's query and not wonder why, exactly, she's so concerned about what Congress might find in IRS emails or other types of electronic communications. She seems to be expressing a fairly clear desire to shield certain types of agency communications from possible congressional scrutiny, and she indicates that she has advised agency employees to take steps to ensure that what Congress sees is limited.
It's possible, of course, that this is merely a product of general managerial caution. But in the context of Lerner's own conveniently timed tech troubles—her hard drive containing her emails crashed just 10 days after the House Ways and Means Committee sent its first letter asking about IRS treatment of non-profits—it's bound to raise some eyebrows. (Further, as The Wall Street Journal notes, the exchange happened just days after the IRS Inspector General delivered a report concluding that the IRS had targeted conservative groups, but before that report was made public.)
If Lerner was warning other agency employees to be careful about what they say in emails that could be made available to Congress, then it seems reasonable to suspect that IRS employees were in the habit of having discussions that they would not want Congress to know about.
See the full email exchange, as released by the House Committee on Oversight and Government Reform, after the jump.