Ukraine: Fighting Resumes as President Vows to 'Liberate Our Lands'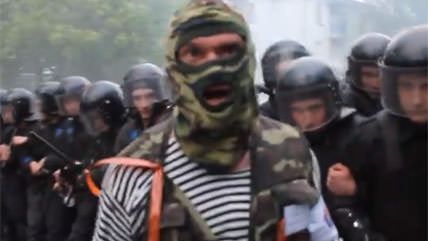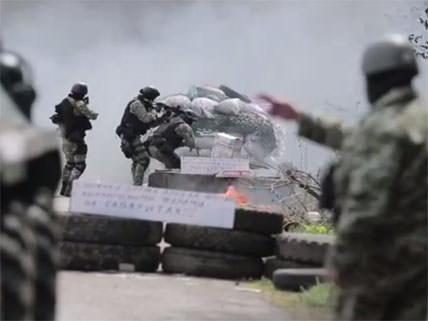 Early today Ukrainian President Petro Poroshenko declared the end of a ceasefire with the separatist militias in the nation's east.
Alleging that the militants "defiantly violated the ceasefire regime more than 100 times" over the last 10 days, Poroshenko stated his plan going forward:
We will attack and liberate our land. Termination of ceasefire is our response to terrorists, insurgents, marauders, everyone who tortures civilians, paralyzes the economy of the region, disrupts payments of salaries, pensions, scholarships, blasts the railroad, destroys the water pipes and deprives people of normal peaceful life.
Today's operation includes airstrikes and artillery fire "at the strategic points of the terrorists," a military official said.
The Ukrainian president also criticized Russia's efforts to de-escalate the situation as merely "symbolic. … We haven't seen tangible measures on de-escalation of the situation and enhancement of control over the border."
Indeed, some separatists openly say they themselves are Chechen mercenaries on orders from Russia. Likewise, the militants increasing firepower, such as several tanks that crossed the border from Russia in June, leave little doubt about who is fanning the flames. Despite the armistice, "27 Ukrainian servicemen had been killed and 69 wounded" in the last week and a half, reports Reuters.
Russia blames the U.S. for the renewed combat. "The change in Kiev's position … could not have come about without influence from abroad," the nation's foreign ministry insists.
A Pentagon press release yesterday suggested that more U.S. troops may be sent to NATO countries near Ukraine in response to the unresolved crisis.
Although the White House has not yet commented on today's developments, Secretary of State John Kerry last Thursday threatened that Russia had only "hours, literally" to demonstrate that it would rein in the separatists. However, the U.S. has implemented no new sanctions or taken other actions since then.