We Should Ignore Michelle Obama
What exactly qualifies her to oversee a "major transformation of our nation's school-lunch program"?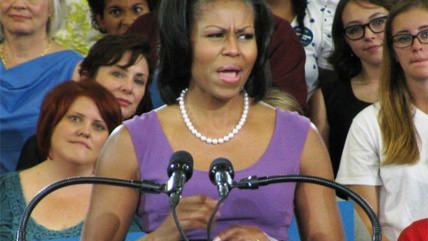 Last month, Michelle Obama took an "unusual" step, The Washington Post reported, "by delivering White House remarks taking issue with makers of frozen pizza and french fries." I'll say. One scours in vain the speeches of Martha Washington and Eleanor Roosevelt for proclamations about pizza, frozen or otherwise.
Despite speaking to a carefully selected group of people who already agreed with her, Obama felt herself sufficiently qualified to speak on behalf of all parents. She said she spends every waking minute "thinking and worrying" about "our kids." What does she think and worry about? The same thing that all parents think and worry about: the nutritional value of school lunches.
Thanks to her efforts, businesses and schools are forced to divert their time and resources toward "combatting" childhood obesity. Lest they be fined and imprisoned, they must comply with a host of impractical, burdensome regulations so that American children will be statistically less fat and so that the president's wife can have a cause instead of a job.
That some Republicans are trying to thwart her campaign for slimmer, healthier kids is, to her, "unacceptable." "It's unacceptable to me not just as First Lady, but as a mother," she said. Obama talks about being a mother as often as John Kerry talked about being a Vietnam veteran during his 2004 presidential campaign. In both cases, the reason is the same: to focus attention on their innocuous identities and away from their politics.
"In 10 or 20 years," Obama said, "I don't want to look back with regret and think that we gave up on our kids." So, for our children's future as well as the first lady's, we should do whatever she says "as a mother" about an issue involving millions of people and billions of dollars. Question: Besides her motherhood, in what other way is this woman qualified to oversee, as she put it, a "major transformation of our nation's school-lunch program"?
Rather than undertaking this massive task, Obama should simply say, "I like healthy kids, and so should you." Let's be honest: the amount of attention and the degree of respect she receives is purely on account of her nuptial resume. She is not an elected official, nor is she America's maternal figurehead—notwithstanding her claims to the contrary.
At the 2012 Democratic National Convention, Obama declared herself America's "mom-in-chief." As such, she believes it is her responsibility to command America's youth much as her husband commands its military.
It was as mom-in-chief that she proclaimed a war on childhood obesity, beginning with her "Let's Move!" initiative. As part of her war on fat children, the White House appointed someone to the position of nutrition policy adviser, Sam Kass, whose salary is publicly financed. "We cannot afford to roll back effective programs," Kass said. "We need to be doubling and tripling our efforts." Translation: "We" cannot afford to fire Kass. "We" need to be doubling and tripling his salary.
The real problem is not the first lady herself but the institution of her "office." It is an unwritten law that a first lady must have a "role" as well as an image. She must above all be wholesome, or at least appear that way. As first lady, Hillary Clinton rescued her reputation from the doldrums when she served cookies on television, proving that she was not only a woman but also a stereotypical and maternal one. It was, no doubt, her finest hour.
Nancy Reagan wanted kids to say no to drugs, Laura Bush wanted kids to read, and Obama wants kids to lose weight—noble causes, all of them. No one wants fat illiterate kids who do drugs. But who needs reminding from the first lady?
At this point, one wishes the American public would just say no to directives from first ladies. It would save us a lot of time and money, and we could all stop pretending that the spouses of politicians matter. That said, I hereby call on Michelle Obama to resign as mom- and chef-in-chief.