Cleveland Wants 'Sin Tax' To Become 'Win Tax' for Sports Teams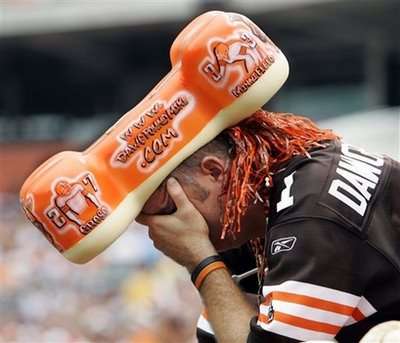 Cuyahoga County Chief Executive Ed FitzGerald announced an it's-just-crazy-enough-to-work scheme to end decades of heartache inflicted upon Cleveland's sports fans. FitzGerald, who just happens to be in an uphill gubernatorial battle, proposed on Thursday a policy by which the Browns, Indians, and Cavaliers would only receive a chunk of their taxpayer-subsidized millions if they actually win games.
A press release on his website explains:
When the sin tax extension takes effect next year, FitzGerald's proposal will continue to direct 80 percent of all sin tax revenues towards repair, maintenance, and improvement to ensure Cleveland's three major sports facilities remain among the best in the nation. …

The remaining 20 percent of sin tax revenues would be reserved for performance bonuses presented to the team or teams that perform well each year. The "Win Tax" bonus is designed to reward the organizations that commit themselves to giving fans a winning team and generating economic benefits for the Northeast Ohio economy. Based on projections of future sin tax revenues, the Win Tax bonus will make more than $50 million available for justified capital improvements.
His plan includes a "fan advisory council" to help decide how to split the cash, but details on that haven't been fleshed out. FitzGerald told The Plain Dealer that he's confident this is the first time such a policy has been proposed. Somewhat alarming, though, is the fact that the FBI-agent-turned-politician is a bit dodgy when it comes to questions about sports management in general or Cleveland's three major teams in particular.
Cleveland sports radio personalities Bruce Hooley and Jerod Cherry criticized the plan during an interview with FitzGerald. Cherry, who played in the NFL, assured that it wouldn't improve on-field performance. Hooley stated, "I don't want government interference in how my sports teams are run. You've hit on a perfect grandstand play for a political candidate, because everyone wants to say, well I'll hold the teams accountable. But you're talking about telling billionaires how to run their business when you guys have enough stuff to do."
And I'd like to stand by that, except that Cleveland's teams are just as guilty for the situation they're in. The billion-dollar owners of multi-million dollar teams invited government interference by spending the last 24 years lobbying for a cut of the money every time someone drank a beer or smoked a cigarette in Cuyahoga County.
Unfortunately, the citizens have also made themselves culpable in Cleveland's boondoggle. In May they voted in favor a 20-year extension on the tax.
Below is the episode of Reason Saves Cleveland With Drew Carey in which Reason specifically warned against subsidizing athletic franchises and other big businesses that regularly promise (but fail) to draw consumers into the economically crippled locale: