Florida County Tickets Woman for Sunbathing Topless on the Beach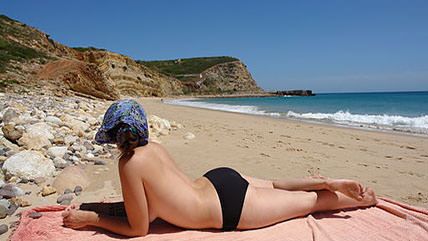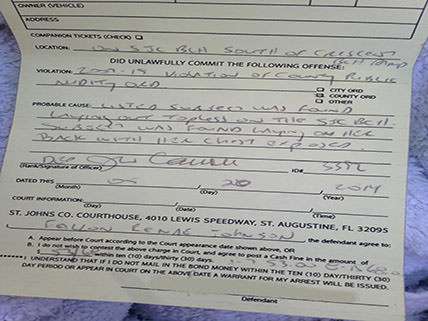 On a warm day in May, Fallon Johnson, a 21-year-old waitress, found herself on a deserted public beach in St. Augustine, Florida. She decided to stretch out in the sun and subsequently drifted off to sleep. She doesn't know how long she was asleep before she was awakened by a police officer asking to see her ID. With her mind still hazy from being abruptly awakened, she wasn't sure what law she'd broken, but she handed over her New York driver's license.
Johnson, who had been sunbathing topless, was unaware that female shirtlessness is illegal in St. Johns County. She was handed a ticket and fined $53 for violating the county's public nudity ordinance, which was drafted by the county's board of commissioners in 1992.
The ordinance states that "appearing nude in public places is still contrary to the general societal disapproval that the people of St. Johns County have of persons appearing nude" and "the mere appearance of persons in the nude in public places generally increases incidents of prostitution, sexual assaults and batteries, attracts other criminal activity to the community, and encourages degradation of women and other activities which break down family structures."
The ordinance generously offers women the chance to choose how they cover up, stating that "each female person may determine which 1/4 of her breast surface area" to conceal. But that covered area must include the nipple and areola.
Thirty-seven states have some sort of legislation making it illegal for a woman to be publicly topless, according to director of Free The Nipple Lina Esco. Free the Nipple is a movie about women launching a movement against the censorship of nudity.
Recently, Scout Willis, the daughter of Bruce Willis, made some comments endorsing the film after she walked around New York City wearing only a floral skirt. In a blog post on xoJane, Willis wrote:
There are also some people who would criticize my choice to relate nipples with equality at all. To me, nipples seem to be at the very heart of the issue. In the 1930s, men's nipples were just as provocative, shameful, and taboo as women's are now, and men were protesting in much the same way. In 1930, four men went topless to Coney Island and were arrested. In 1935, a flash mob of topless men descended upon Atlantic City, 42 of whom were arrested. Men fought and they were heard, changing not only laws but social consciousness. And by 1936, men's bare chests were accepted as the norm.
If the government wants to regulate breasts, then it should at least be equitable about it: Give large men with big tits tickets, too.