How Tacky T-shirts Became Contraband in New Orleans
Zoning enforcement is being used to rid the French Quarter of souvenir shops.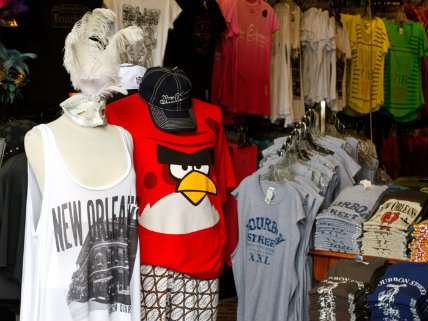 When New Orleans entrepreneur Ed Azemas opened his eponymous French Quarter clothing store, he never expected to be dealing in "illegal merchandise." But that's exactly what he ended up doing—at least according to an official notice from the City of New Orleans that was posted on the store's facade last fall. The illicit goods Azemas and 12 other French Quarter merchants are accused of selling? T-shirts.
Last fall, city zoning inspectors conducted a sweep of dozens of small retailers in the French Quarter and found that many were improperly selling New Orleans t-shirts and souvenirs. This sweep for illegal trinkets came at the urging of the non-profit Vieux Carre Property Owners, Residents, and Associates (VCPORA) organization, which gave the city a list of dozens of French Quarter businesses it believed to be in violation of city zoning laws
Citing the proliferation of tacky t-shirt stores in the French Quarter's most heavily-trafficked areas, the association called upon the city of New Orleans to begin enforcing its own laws—specifically, a 2011 ordinance that outlawed the creation of new t-shirt shops in the French Quarter. For purposes of the ordinance, a t-shirt shop is defined as a place where the majority of business comes from the sale of t-shirts or souvenirs. Majority is defined as more than 35 percent and souvenirs as "items, exclusive of books, magazines, or maps, which serve as a token of remembrance of New Orleans and which bear the name of the city or geographic areas or streets thereof, or of events associated with New Orleans including but not limited to Mardi Gras, the Sugar Bowl, or the World's Fair."
Thirteen stores were found to be in violation of the ordinance. The businesses were issued citations and given 10 days to remove the offending merchandise, though they were able to delay action until they had a hearing with the Board of Zoning and Adjustments—a hearing which has been postponed for more than half a year.
The reason for the hearing delay has to do with paperwork and, more specifically, the city's refusal to hand it over. Jason Schmidt, an attorney representing 10 of the cited shops, has repeatedly requested access to city records that could help sort out whether any of them could be grandfathered in. He's also repeatedly been denied.
The city stores the records with a third party and claims that it would cost taxpayers $300 per folder to retrieve them. Schmidt was told by the New Orleans City Attorney's Office that the records are indexed by year, not property address, and his requests would require the pulling of 90 different files. A hearing will be held May 19th to determine whether the city will have to hand over the records.
Another store owner cited in the sweep was Sadiq Khan. Khan first opened his French Quarter store after immigrating from South Asia 30 years ago and believes that it should be grandfathered in. Opponents protest that businesses like Kahn's have been operating falsely under general merchandise store licenses. Khan counters that there was no special classification for a t-shirt store when he opened his business, and the nature of his business has always been the same.
Azemas claims he is a running a women's boutique and t-shirts represent less than 35 percent of his business. But after six months of spending money and effort fighting city hall rather than building his business, he has opted to put his French Quarter store up for rent.
The battle over French Quarter t-shirt shops is just another in a series of episodes that pit neighborhood groups like the VCPORA against New Orleans businesses, while the city tries its best to play middleman. But assuaging the concerns of neighborhood groups while not killing the city's primary source of revenue, tourism, isn't easy. And as in the ongoing fight over New Orleans' noise ordinance (discussed in the April issue of Reason), the real winners in this t-shirt battle are large corporations with the money and overhead to weather the ebbs and flows of city politics and zoning enforcement.
While a small store owner like Azemas would have to carefully calculate the number of New Orleans Saints shirts he could display in his storefront window when the Saints kick-off their first home game this September, large nearby retailers such as Walgreen's or H&M can stock rack after rack of New Orleans themed gear without any fear of crossing the 35 percent threshold.
Certainly, no one wants to live in a city overrun with tacky tourists shops, but as the residential population of the French Quarter shrinks, souvenirs are a retailer's safest bet. Even if opponents of t-shirt shops succeed in getting a few shut down on Bourbon street, there is little reason to believe they will be replaced by wine cellars or art galleries.
Some charge that the attack on t-shirt shops is really an attempt to sanitize the French Quarter and push poor and middle-class people out. Many of the stores are owned by Asian immigrants, and they cater to lower- and middle-class tourists. As an example of zoning enforcement being applied unequally, business owners point to new shop Fleurty Girl. The locally-owned, upscale t-shirt boutique opened a French Quarter location after the 2011 ordinance went into effect—without any major objection from the VCPORA.
In a recent op-ed posted on New Orleans news site The Lens, Louisiana native and Loyola University professor C.W. Cannon suggested that "what really drives the loathing of T-shirt shops in the Quarter is the fear that New Orleans will be seen as a minor capital of the Redneck Riviera rather than a paragon of elite culture."
Whether t-shirt shop opponents will make any real dent in the souvenir trade remains to be seen. But the city's inability to create (and uniformly enforce) sensible policies that take into account what people are and have been doing for generations seems certain to continue.