Happy 90th Birthday! Feds Send WWII Vet to Prison for Drug Smuggling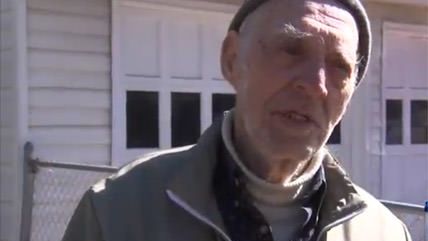 Leo Sharp, a World War II veteran who suffers from dementia, didn't get much of a chance to celebrate his 90th birthday on Wednesday, because a federal judge sentenced him to three years in prison for smuggling cocaine.
Sharp, whom ABC describes as the "world's oldest drug mule," was stopped in 2011 for an illegal lane change in Michigan. The arresting officer apparently called for back-up when Sharp declined to have his car searched. A drug-sniffing dog found 104 bricks of cocaine worth an estimated $2.9 million. Sharp was charged with conspiracy to possess with intent to distribute cocaine.
He pleaded guilty, but has claimed that he did it because the Mexican drug cartel threatened to kill his family. His lawyer said, "This old man was brainwashed…when he wanted to quit, they put a gun to his head," and that he deserves leniency for "fighting Nazis." Citing a medley of health problems, the lawyer requested that Sharp be placed under house arrest.
Sharp doesn't think he'll last long in prison–or as he describes it, "a toilet with bars." When asked last week about his looming sentencing, he said that if the feds lock him up, "I'm going to get a goddamn gun and shoot myself in the mouth or my ear, one or the other." He begged the judge, "I'm really heartbroken I did what I did. But it's done."
Too bad, grandpa. U.S. District Judge Nancy Edmunds wants his punishment to serve as a deterrent for other rogue seniors. She insists that "this is not a victimless crime," writing that the "illegal distribution of narcotics" is "ravishing" major cities, is "leading to horrific cartel violence in Mexico," and that Sharp's "actions are directly linked to this destructive force."
Sharp's plea deal reduced his prison time from the standard minimum recommendation of 10 years, but he was also fined $500,000 and had to forfeit a flower nursery he owns.